CyberPowerPC has launched a new gaming PC called the Trinity. The chassis of this PC breaks away from the usual utilitarian box shaped structural efficiency with its tri-blade construction. CyberPowerPC says the design isn't just for eye-candy but brings with it maximum cooling capacity for the separated heat-generating components. A version of this PC/chassis was on show at CES in January.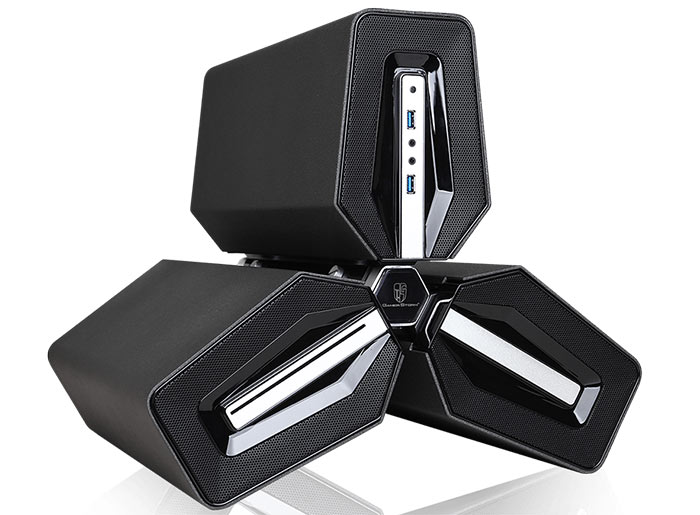 Now you've clapped eyes on a couple of shots showing the Trinity PC in this article I don't need to go any further describing the 'spaceship-like design' and so on. Instead let's focus on this gaming PC's unique configuration. As mentioned in the intro, the PC is formed from three 'blades'. These are dedicated, more or less, to the three functions of; graphics performance, power and storage, and motherboard fitted with CPU and memory.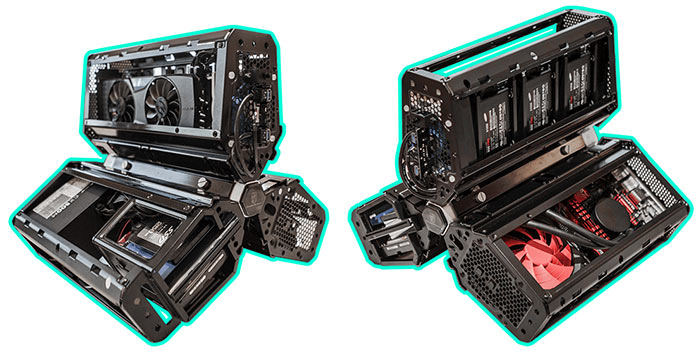 Blade 1: This is dubbed the 'performance blade' and offers the capacity for a full length graphics card including the likes of the Nvidia GeForce GTX TITAN X and the AMD Radeon R9 series. For flexibility and expansion possibilities you can also fit some SSD drives in this blade.
Blade 2: This is dubbed the 'storage blade' and can accommodate up to 3 SSDs, 2 mechanical hard drives and even a slim optical drive if desired. You can see an ODD fitted, as evidenced by the ODD slot in the main picture. Within this blade you also fit your PSU, which can be a full sized ATX unit.
Blade 3: The 'CPU blade' is designed to fit an AMD or Intel compatible ITX motherboard. The latest processors are supported, according to CyberPowerPC. The CPU blade is also designed to allow the fitting of a 120mm liquid cooler.
The system's tri-blade compartments are connected using a hexagonal steel spine which is hollowed to allow for tidy cabling. Each of the three steel blade casings weighs a hefty 5Kg unpopulated. The Trinity can be situated on your desk resting upon two blades or in a 'Y' configuration, perched upon a single blade, says CyberPowerPC.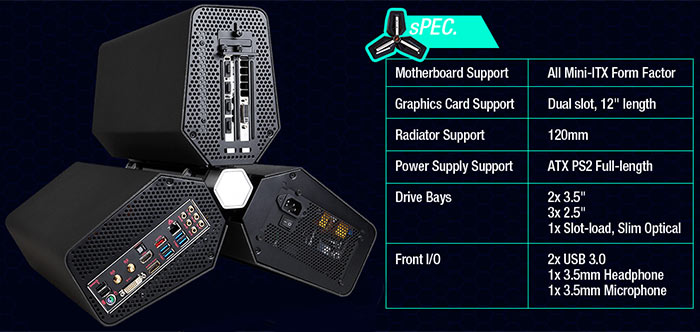 The systems maker has three pre-configured Trinity PC systems listed upon its pages but these are user configurable to include many hardware choices. Fully configured systems come with a three year warranty. See the image below for the Trinity 100, Trinity 200 and Trinity Extreme base configuration specs.