News is coming in of new Steam Machines being shown off at the GDC 2015. HEXUS has received official press releases from both ZOTAC and SYBER (part of CyberPowerPC) so far and seen news about the likes of Alienware and Falcon Northwest with new machines on show at GDC. In other Valve news, the firm has announced the Vulkan-compatible Source 2 engine, SteamVR powered by the HTC Vive, and Steam Link games streaming.
Steam Machines
As mentioned in the intro we have confirmation of four companies preparing new Steam Machines. Valve says that there will be "a dozen other partners," preparing these living room gaming PCs in time for the big launch in November 2015. In general Steam Machines will start at around traditional console prices but offer better performance and will be able to be customised with better components, according to customers' wishes to budgets. Some machines, such as one on demo made by Falcon Northwest are said to be capable of "running incredibly detailed scenes at 4K or running 1080p at 120 FPS for an intense shooter experience," said Epic Games' Tim Sweeney.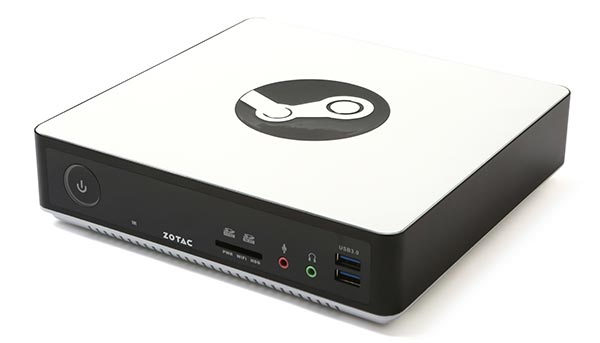 ZOTAC wrote to us concerning its SN970 Steam Machine. From the naming you might guess the GPU which ZOTAC has chosen to integrate into this compact PC – yes, it's the GTX 970M graphics processor. Other specs we were told about include the ability to hook up four displays, the inclusion of a 64GB M.2 SSD and a 2.5-inch 1TB HDD and 802.11ac wireless.

The ZOTAC SN970 is said to be a variation on the ZBOX EN760 design so you could expect the CPU to be the Broadwell successor of that model's Intel Core i5 4200U. When it becomes available buyers will get a Steam Controller included and Steam OS pre-installed.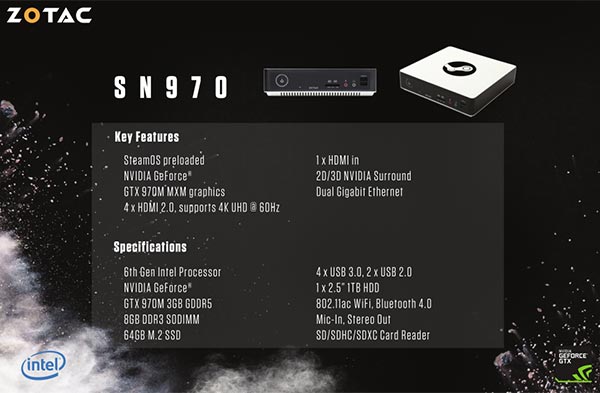 SYBER, a new division of CyberPowerPC, has announced a new range of Steam Machines. "For gamers who want to break out of the bedroom and into the comfort of the living room, the Syber Steam Machines offers the best performance at an affordable price," said Eric Cheung, CEO of CyberPowerPC. The machines will offer more power, more customisation than consles yet be priced starting from $449.

The three initial systems include the Syber Steam Machine-E, an entry level machine which will combine a quad-core AMD CPU and undisclosed Nvidia GeForce GTX graphics chip. At the mid level the Syber Steam Machine-P pairs the Intel G3258 3.2GHz processor and AMD Radeon R9 270X graphics, for $549. Its top tier model, the Syber Steam Machine-K, is powered by an Intel Core i5-4690K and NVIDIA GeForce GTX 970 with a price tag of $999.
Additionally SYBER will introduce the Steam Machine-Mini, the Steam Machine-Mercury prototype, and a Steam Machine-Switch concept at GDC. These six machines, expected to be ready for November will be joined by the limited edition fire-orange Syber Steam Machine-X.
Steam Link
Valve released information about this device on the Steam Store but has since temporarily removed it. However, thanks to SteamDB we still have enough info available to outline its functionality. The Steam Link hardware is a small device that connects (via HDMI) to your big-screen living room TV to facilitate Valve in-home game streaming.

Steam Machines, Windows PCs, Macs, and Linux PCs will all be able to make use of the device. According to Valve it can support 1080p at 60Hz with low latency over your home network. It is equipped with an Ethernet port and three USB ports. This device is also expected to be released for sale in November priced at $49.99. A Steam Controller to pair with it will be priced at $49.99 too.
Source 2
Valve announced the Source 2 engine, the successor to the engine which powers Counter-Strike: Source and Half-Life 2. It will release a Vulkan-compatible version of the engine. Valve's Jay Stelly said that the focus upon making the new engine was to "increase creator productivity". Just like Unreal Engine and Unity, Source 2 is being offered for free, "We will be making Source 2 available for free to content developers. This combined with recent announcements by Epic and Unity will help continue the PCs dominance as the premiere content authoring platform," said Stelly.
VR experience
We have already seen the HTC Vive VR headset, designed in cooperation with Valve. Now the games software and distributor has added some details about the complete system. A room scale tracking system called Lighthouse will make Valve's VR offering more compelling by providing high quality, high resolution, high speed tracking. It will be cheap tech to build into other devices (like base stations or even mobiles and monitors) and freely available to hardware makers. As for a VR input system Valve mentions the Steam Controller but there may be something more, as hinted at by HTC's headset news release mentioning twin ergonomic controllers.