ASUS Republic of Gamers has announced a new console-inspired PC called the ROG GR6. The new gaming-centric PC shares the same 2.5 litre chassis as last year's ROG GR8 but has more modern, but less powerful, components. The focus on designing the GR6 was, according to the ASUS ROG blog, to make a console-inspired gaming PC which is "as minimalistic and silent as possible".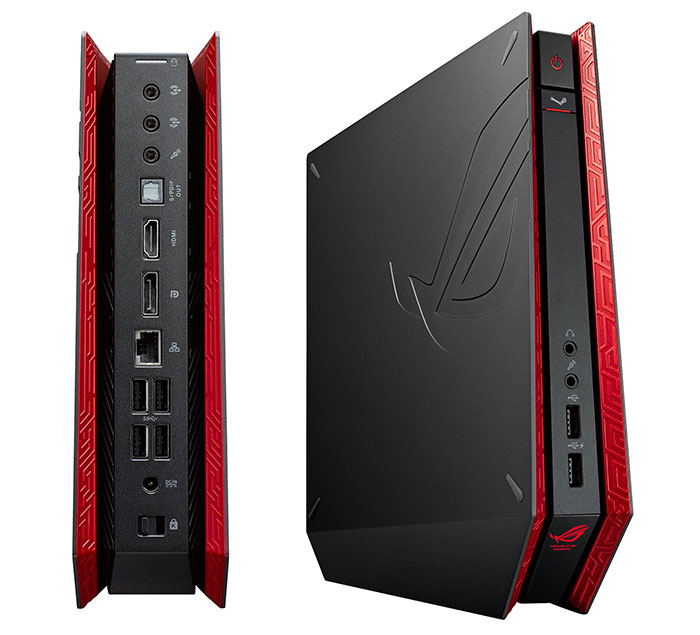 The key specs of the new ROG GR6 are as follows:
Intel Core i5-5200U Processor
Nvidia GeForce GTX 960M Graphics with 2GB GDDR5 VRAM
8GB 1600MHz DDR3L (SODIMM) memory (up to 16GB – 2x8GB)
2.5-inch storage bay plus 2.5-inch expansion bay for HDD, SSD
Intel Gigabit Ethernet LAN, 802.11a/b/g/n/ac Wi-Fi
Front I/O: 1 x Headphone, 1 x MIC-in, 2 x USB 2.0 (1 with USB Charger)
Rear I/O: 3 x Audio jacks (LINE_IN/LINE_OUT/MIC), 1 x S/PDIF optical out, 1 x HDMI, 1 x DisplayPort, 1 x LAN(RJ45), 4 x USB 3.0, 1 x 19V DC-in
238 x 245 x 60mm, 2.5-litre black & red chassis, weighs 1.28Kg
Windows 8.1 plus Steam Big Picture Launcher and ASUS exclusive software bundle
Considering for a moment the 'silent as possible' philosophy I notice that the new ROG GR6 offers the exact same idle and full load noise levels as the ROG GR8 which are 20dB and 28dB respectively.
While the GR6 is newer you can see why ASUS has chosen not to increment the name of the machine – because it basically uses a newer generation CPU and GPU but they are less powerful models.
According to the official product spec page the ROG GR8 comes with an Intel Core i7 4510U (two cores with four threads, 2GHz base with 3.1GHz boost) processor and switchable 2GB Nvidia GeForce GTX750 Ti / Intel HD Graphics 4400 graphics. The new ROG GR6, as you can see above, packs an Intel Core i5-5200U processor (two cores with four threads, 2.2GHz base with 2.7GHz boost) plus HD Graphics 5500. This is partnered with a discrete 2GB Nvidia GeForce GTX 960M GPU. After a bit of nosing around it seems like the differences between the GR6 and GR8 configurations won't result in drastic fps differences in most cases.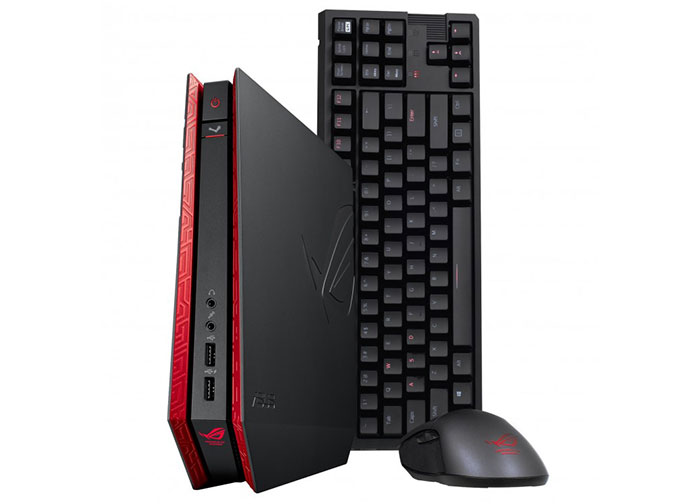 In summary, the new machine is good for "Full HD gaming in the bedroom, or throw it in a bag and head to a LAN party or simply go hog the big-screen in the living room," much like its predecessor, says ASUS.
Optional accessories ASUS would like to sell with the GR6 include the 'gaming grade' ROG Gladius mouse and M801 Keyboard set or the ROG Sica mouse and RA01 Keyboard set aimed at MOBA players. The currently available ROG GR8 sells for between £700 and £800 in the UK. ASUS hasn't given us any RRP indication of availability or pricing for the new GR6.