Microsoft has built a new tool to help users of Windows 8.1 devices determine the causes of battery drain during the system's sleep mode. Kevin Chin, writing on the Windows Blog, explains that the 'Sleep Study' tool is particularly useful, as while your system is sleeping you can't otherwise easily monitor hardware and processes causing a battery drain.
First of all it's worth pointing out that the new tool will only work with systems which support InstantGo. Such systems offer a tight integration of SoC hardware and software to provide a very fast wake-up, connected, instant-on experience and should offer sleep modes which have little impact on your battery.
Sleep Study will tell you which apps and devices are using your computer resources during a sleep session. When installed the tool logs any sleep sessions over 10 minutes long and provides a colour-coded, depending upon power-consumption, report. In the report apps, devices and services with higher power consumption are highlighted in red or orange.
Of course, the purpose of Sleep Study is to help find and fix anything that is having a major impact on your device battery life. Microsoft says that to achieve optimal battery life in a connected standby session (InstantGo) components and processes should spend more than 95 per cent of their time in a low power state.
Microsoft admits that sometimes users will get higher than expected battery drain during sleep due to a number of factors including; Windows Updates being received, some USB device connections, Bluetooth devices, marginal Wi-Fi network connectivity, lots of background network activity and also bugs in drivers, firmware and system devices.
You can check if your system is compatible with Sleep Study by opening up a command line and typing;
powercfg /a
If you see an entry called 'Standby (Connected)' then it will work. Then you can run the tool by typing;
powercfg /sleepstudy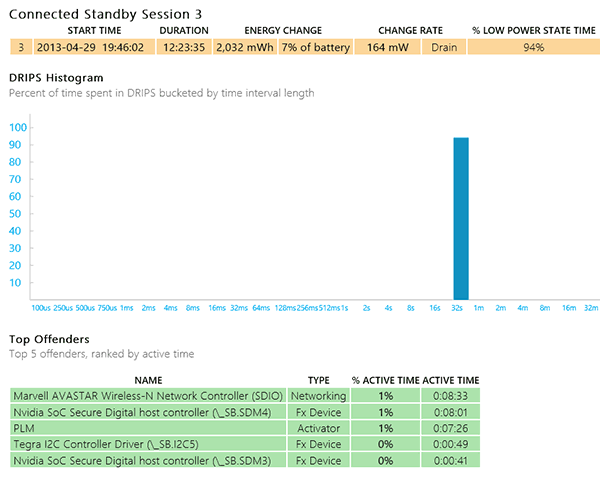 An example Sleep Study report section
An HTML report of sleep power use will be generated in the directory where your command line points to. If you want to find out more about the tool's use check out Microsoft's blog post.