Investment firm JP Morgan believes that Apple is missing out on a $63 billion market opportunity as it is only partially competing in the sub-$1000 portable device market with its iPad, reports CNet. The financial firm stated that these missed opportunities could be regained if Apple introduces a new tablet-laptop hybrid running a more full-featured version of iOS.
"We believe that Apple is currently missing a $63bn market opportunity by only partially playing in the $500-$1,000 laptop market via the iPad. Our central assumption is that lower priced laptop buyers are not willing to purchase what amounts to an expensive tablet that doesn't fully replace a laptop," explained Analyst Rod Hall.
The iPad only currently accounts for around 20 per cent of the portable sub-$1000 computing market. The new device could "rapidly grow share" towards the 40 per cent Apple currently enjoys with its MacBook range in the over-$1000 laptop market, stacking up around 25 million additional units, believes Mr Hall.
iAnywhere on the way?
Hall said that around 55 per cent of total notebook shipments in 2013 came from the sub-$1000 price range, equivalent to around 100 million of the 180 million shipped. He also stated that it is highly possible that Apple will be adding a keyboard and mouse centric UI to its iOS platform, that also keeps the touch friendly functionality of the OS, within the next year. Referring it as 'iAnywhere', Hall thinks that whilst it will eat away at MacBook Air sales, it will also take more market share from traditional Windows PCs which are selling quite well in the price range of $500-$1000, reports Apple Insider.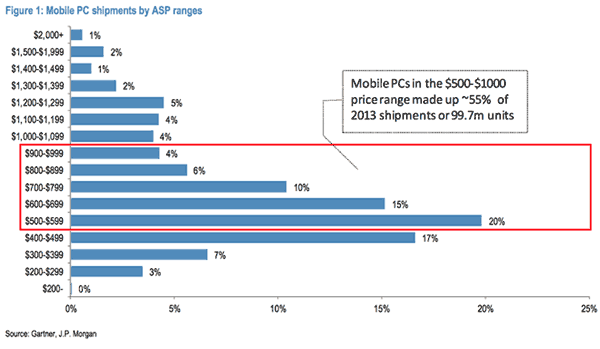 The JP Morgan analyst added that "While some iPad owners are replacing laptops with the device, we believe that most use the iPad as a supplemental device to either a laptop or desktop PC." Following this logic through; "If iAnywhere allowed these users to flexibly use an iPad as both a PC and a tablet, we believe that many would elect to own simply one device."
Apple A8 processor surpasses Intel i5 computing power
Apple's A8 processor, a chip touted to achieve performance on par with the Intel Core i5 powering the current MacBook Air, was also mentioned in the original JP Morgan report via Barron's. It is thought that this powerful processor could mark a turning point for mobile processing and drive Apple into a new multibillion dollar market.
Analyst Hall tied the iAnywhere and A8 processor projections together; "In 2014, we believe that the next A-series chip (probably named the A8) is likely to surpass the computing power of current i5 based MacBook Airs... If our calculations are roughly correct, we would see no reason for Apple not to begin using the A8 in its laptops or - as we are arguing in this report - just make its tablet behave as a laptop."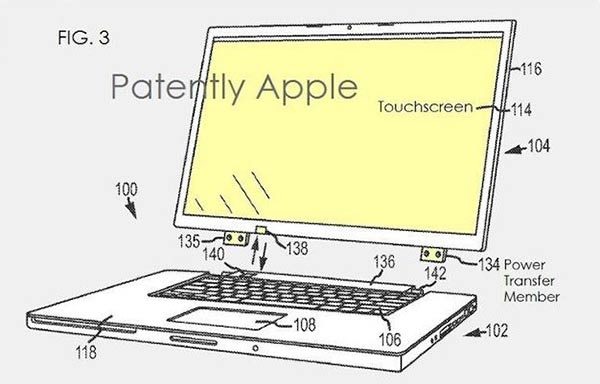 These are certainly interesting predictions which would mark a bit of a U-turn for Apple as it once pulled Microsoft's pigtails with regard to its hybrid devices and Windows 8 OS. However if there's $63 billion in an 'iPad Pro' idea and it's what consumers want no one should care about saving face.