The future of off-the-peg computers, tablets and convertibles running both Windows and Android looks pretty hazy today. Earlier in the week there were reports that Google was trying to stop the ASUS Transformer Book Duet TD300 from being released. At that time it was put down to Google's worries about helping Microsoft Windows 8.1 gain traction in the market. Now we are seeing new reports with evidence showing that both Google and Microsoft want the TD300 never to make it to the market.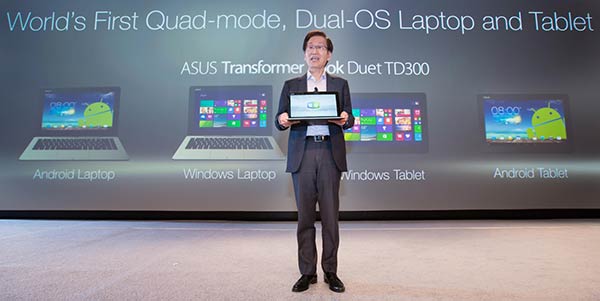 The source report from the Wall Street Journal (via The Verge) obtains some telling information from an ASUS internal memo about its dual-OS machines. In the memo an ASUS exec writes that due to Microsoft's "new policy" of not supporting dual-OS products that it will stop selling dual-OS machines like the Transformer AiO P1801 and P1802 all-in-one PCs it launched last year. Also the portable 4-in-1 TD300, which was scheduled for H1 this year, will be shelved indefinitely.

An industry analyst, Patrick Moorhead at Moor Insights and Strategy, told the WSJ that "Google wants all-Android devices," and could exert some control of whether a device maker got access to the Play Store, for instance. From the other side of the ASUS squeezing equation Moorcroft told The Verge that "Microsoft does not want [dual-OS devices] to happen".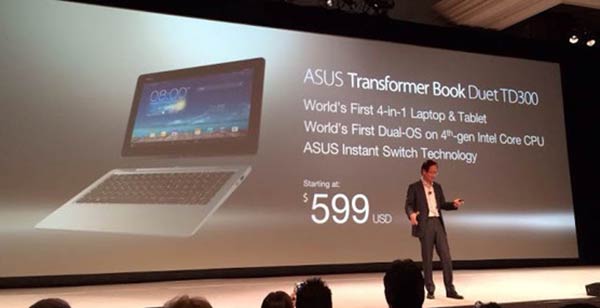 This development is a bit of a shame for end users who might have appreciated the flexibility of buying a device with a dual-OS Windows/Android option. The TD300 was definitely an interesting highlight of the CES show. Also looking at the business repercussions; obviously ASUS has spent time and resources developing these products. Intel too will miss out on products which were "widely seen as a boon," with the possibility of it flogging more chips into the mobile/tablet market. Intel CEO Brian Krzanich was obviously quite taken with the dual-OS idea as he showed the ASUS convertible device during his CES keynote. Android works perfectly well on its own using ARM processors so Intel chips, with their Windows and Android support, aren't particularly attractive without off the peg dual-OS machines being manufactured.