Gigabyte has launched another variation of its BRIX ultra-compact kit PCs. This new model is aimed squarely at gamers who would like a portable but pokey gaming PC. This new Gigabyte BRIX Gaming barebones kit includes an AMD A8-5557M Richland APU on general processing duties together with an AMD Radeon R9 M275X discrete graphics processor.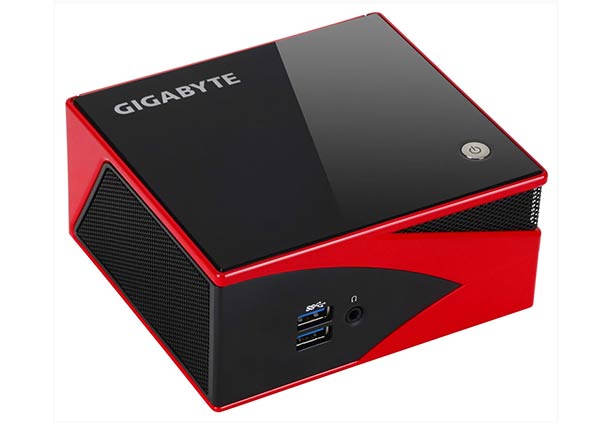 "The BRIX Gaming offers a real desktop PC experience in a compact form factor that end users now expect from a GIGABYTE BRIX device," commented Henry Kao, Vice President of GIGABYTE Motherboard Business Unit. "We're very excited about the continuing evolution of the desktop PC, challenging the notion that smaller PC design means abandoning performance."
When you buy the BRIX Gaming PC it is a barebones kit so you need to add in your own choice of memory, fixed storage device and OS to get started. The memory you require is a SO-DIMM, there are two such DDR3L slots available which can accept 1333 /1600 MHz rated RAM according to Gigabyte's official specs.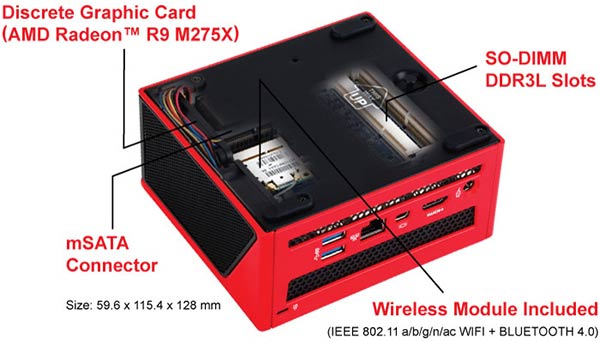 Storage options are good as Gigabyte's new little box of wonders comes with both mSATA and a 6Gbps SATA3 interface to connect a 2.5-inch drive and mount it to the top cover of the case. You can use either or both of the drive interfaces on offer here.
Let's look at the dedicated GPU on offer; it's an AMD Radeon R9 M275X with 2GB of GDDR5 memory. Gigabyte describe this as offering "superb 3D gaming and GPU-accelerated application performance". This GPU isn't listed on AMD's website but users should expect performance roughly in line with the desktop Radeon HD 7750.
Gigabyte BRIX Gaming GB-BXA8G-8890
AMD Richland APU A8-5557M
AMD Radeon R9 M275X graphic card
Supports 2.5-inch Hard Drives (1 x 6Gbps SATA 3)
Ultra compact PC design – 0.88 L (59.6 x 128 x 115.4 mm)
1 x mSATA SSD Slot
2 x SO-DIMM DDR3L Slots (1333 /1600 MHz)
IEEE 802.11 a/b/g/n/ac Wi-Fi / Bluetooth 4.0 Mini PCIe Card
Gigabit LAN
HDMI plus Mini DisplayPort Outputs (supports dual displays)
4 x USB 3.0
Headphone jack
VESA mounting bracket (75 x 75 mm + 100 x 100 mm)

Picking through the key specs above the BRIX Gaming appears to offer a good range of connectivity options and supports dual displays. Both wired and wireless networking is catered for. Also you can easily tuck away this ultra compact PC behind your monitor/TV thanks to its VESA mount. This announcement brings an interesting alternative to Gigabyte's own Brix Pro for Steam Machine use.