Apple's new flagship desktop computer is now available to pre-order and configure with shipping expected by 30th December. The new computer is cylindrical, less than 10-inches tall, and reminiscent of a posh toilet brush holder, however the hole in the middle is described by Apple as "an innovative unified thermal core". There is certainly a lot of powerful computer processing available in this small package; Apple can provide a new Mac Pro with up to a 12-core Intel Xeon processor and Dual AMD FirePro D500 graphics.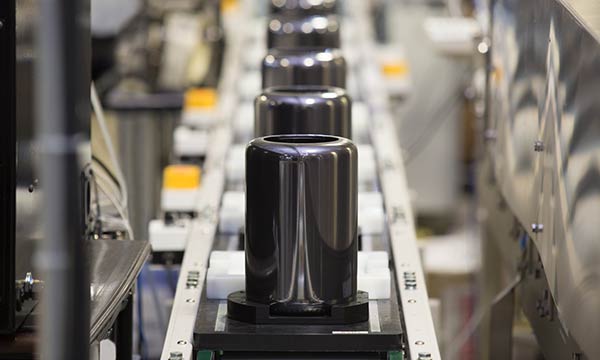 Apple says that the Mac Pro is available via the online store today and you can also order it at Apple retail stores and some authorised resellers. It's not clear if some preconfigured machines will be available earlier than 30th December if you pop into a bricks and mortar store.
The entry level 'Quad-Core and Dual GPU' model costs US$2,999 and has the following hardware spec highlights; a 3.7GHz quad-core Intel Xeon E5 processor, 12GB of 1866MHz DDR3 ECC memory, two AMD FirePro D300 workstation GPUs with 2GB of dedicated RAM per unit, and a 256GB PCI-e flash storage module.
Apple also offers a '6-Core and Dual GPU' model for US$3,999. This more expensive Mac Pro features a 3.5GHz 6-Core Intel Xeon E5 processor, 16GB 1866MHz DDR3 ECC memory, Dual AMD FirePro D500 with 3GB GDDR5 VRAM each, and a 256GB PCI-e flash storage module.

You can also configure your own Mac Pro by selecting one of the above base configurations and equipping a 6, 8 or 12-core processor, AMD FirePro GPUs with up to 6GB of VRAM each, up to 64GB of RAM, up to 1TB of PCI-e flash storage and various software packages pre-installed.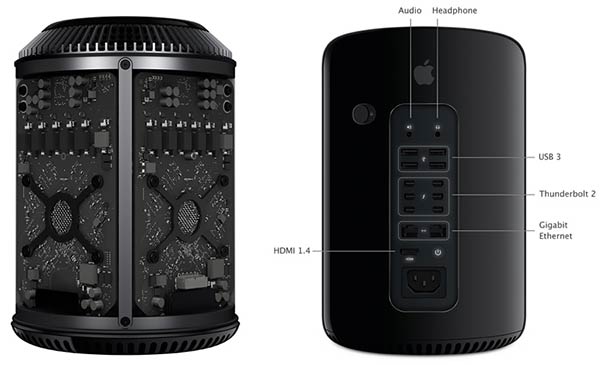 Despite its small size the Mac Pro is a pretty beefy 5Kg. It also includes a good array of connections which include the following; an optical audio in/out minijack, headphone minijack, HDMI 1.4, 4x USB 3.0 ports, 6x Thunderbolt 2 ports, 2 x Gigabit Ethernet ports, Wi-Fi 802.11ac, Bluetooth 4. Apple informs us that it is possible to connect up to three 4K displays or up to six Thunderbolt displays. The system also comes with the latest OSX Mavericks and free software standards such as iMovie, GarageBand and Pages.
Finally, just to seasonally warm your hearts, I have also embedded Apple's Christmas advert below. It features a 'misunderstood' teenage boy who, it seems, can't take his eyes of his iPhone.