Only a week or so ago Gigabyte launched the ultra-compact Brix range of barebones PCs. The company detailed four versions with Ivy Bridge processors ranging from the Intel Celeron 1037U to the Intel Core i7-3537U. Now Gigabyte has revealed a whole new range of Brix featuring a choice of four Intel Haswell ULV processors and also an AMD Brix featuring a choice of four Kabini processors.
Loading...
Been waiting a while?
Get Flash
to see this player.
As a reminder Gigabyte's Brix are a range of barebones PCs which had a lot in common with the Intel NUC but with a choice of more powerful processors and Gigabyte's sleeker, living room friendly, exterior design. The Brix unit measures 29.9 x 107.6 x 114.4mm (4.5 x 4.2 x 1.2-inches). We mused upon the release of the Brix last week, just before Computex was set to kick off, about the future processor possibilities – and it's a surprise to see the range updated so quickly. Also it's not just Intel versions of the Brix being announced this time; buyers have some AMD APU choices too.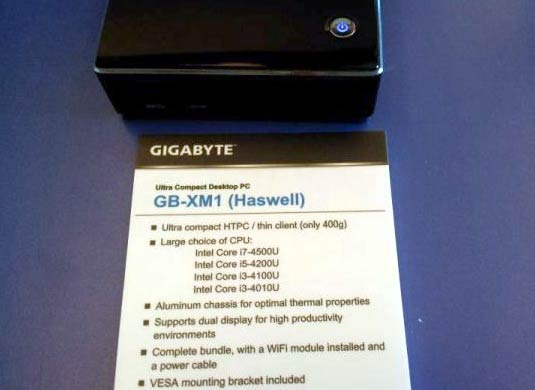 Gigabyte GB-XM1 (Haswell)
This Brix barebones can be had with a CPU of your choice from these; Intel Core i7-4500U, Intel Core i5-4200U, Intel Core i3-4100U, Intel Core i3-4010U.
Gigabyte GB-XM1 (Kabini)
The Kabini APUs are AMD's mid-range chips sitting between desktop, performance laptop and mobile; mostly intended for budget priced notebooks and tablets. You can read more about these chips here. Gigabyte Brix are available with Kabinini APUs including the AMD A4-5000, AMD E2-3000, AMD E1-2500 and the AMD E1-2100. These parts range from TDPs of 15W to 9W. The A4-5000 is quad-core with 2MB L2 cache, all the others are dual-core with 1MB of L2. All these APUs have 12 Radeon cores.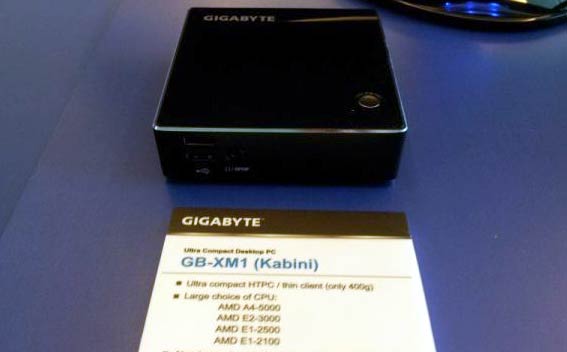 Both varieties of this new Gigabyte Brix weigh in at just 400g, have an aluminium chassis to help thermal dissipation, support dual displays, are VESA mountable and come in a complete bundle including Wi-Fi module and power cable.
Brix wireless charger and Brix pico projector
A new report on Engadget offers a few details on some other Brix prototypes on show at Computex. As well as the models with new CPU/APUs mentioned above Gigabyte has on show one model which includes a wireless charging pad, so you can place your smartphone on top of it to charge up. Also Gigabyte had a Brix with a built-in pico projector for portable presentation use. Engadget says it is not certain whether these prototypes will become selling products or not.