We saw Gigabyte introduce the Brix as part of its 'NEW IDEA' Tech Tour 2013 when it visited London. Now the Taiwanese firm has followed up with a full product launch of these ultra compact PC DIY kits. There are four barebones models being made available initially, equipped with Ivy Bridge processors ranging from the Intel Celeron 1037U to the Intel Core i7-3537U.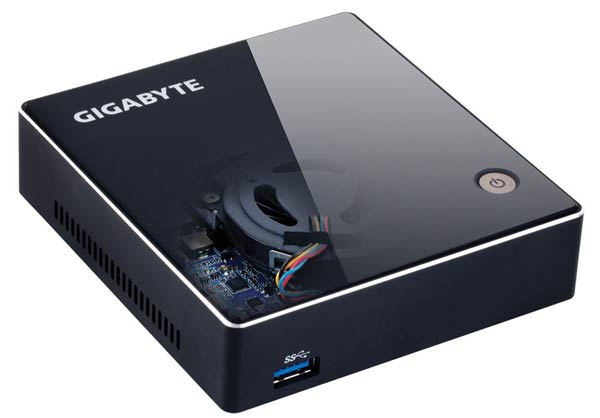 The Gigabyte Brix is an ultra compact barebones PC case, measuring just 29.9 x 107.6 x 114.4mm (4.5 x 4.2 x 1.2-inches). The case comes with a choice of third generation Intel Core processor and is "smaller and lighter than currently available products" from rival manufacturers, according to Gigabyte. While we are on the topic of physical appearance, the Gigabyte Brix looks glossy and stylish with a "glass surface mounted on an anthracite aluminium frame".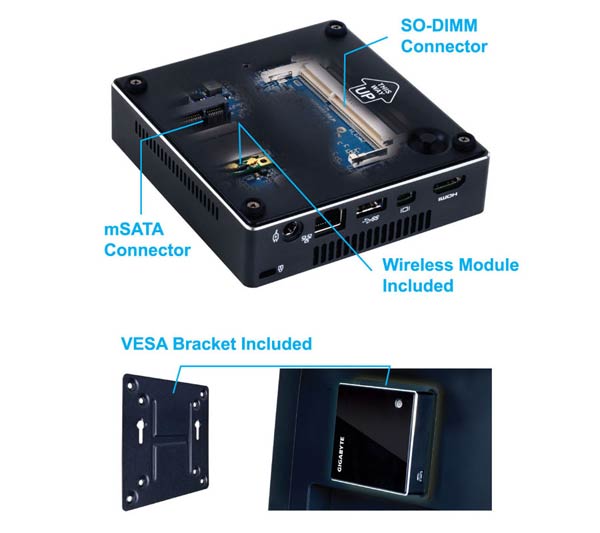 "The BRIX lays down a new standard in terms of compact form factor, connectivity and performance, making it suitable for a broad range of applications in the home, office and commercial spaces," commented Henry Kao, Vice President of GIGABYTE Motherboard Business Unit. "The BRIX demonstrates how we can leverage our exceptional R&D and manufacturing prowess to create new and exciting PC products that defy convention."
After you buy one of the four current Brix models on offer you flesh out the barebones system with your own choice of mSATA SSD, SO-DIMM memory and OS. The Brix comes as standard with a power adapter and a VESA mounting bracket so you can bolt it to the back of many a suitable TV/monitor. Every Brix barebones system is equipped with both an HDMI and a Display Port which gives it more possibilities and flexibility in use. Also as standard this DIY PC kit ships with a Wi-Fi Mini PCIe module pre-installed, so it doesn't need to be positioned near a wired Ethernet connection.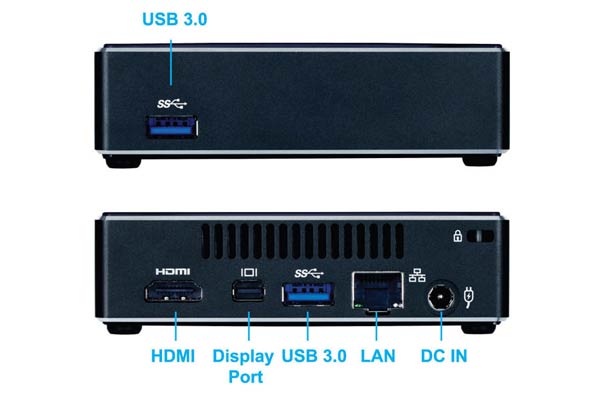 GigaByte has provided nicely labelled photos detailing the ports and connections of the Brix which you can clearly see above. Both front and back USB port are of the USB 3.0 variety.
| | | | | |
| --- | --- | --- | --- | --- |
| BRIX Model | | | | GB-XM14-1037 |
| Intel Processor | Intel® Core™ i7-3537U | Intel® Core™ i5-3337U | Intel® Core™ i3-3227U | Intel® Celeron™ 1037U |
| Cores | 2 | 2 | 2 | 2 |
| Threads | 4 | 4 | 4 | 2 |
| Clock Frequency | 2 GHz – 3.1GHz | 1.8 GHz – 2.7GHz | 1.9 GHz | 1.8 GHz |
| Smart Cache | 4MB | 3MB | 3MB | 2MB |
It's interesting to see these ultra compact PCs launched just before Intel's Haswell arrives. Intel's fourth generation should suit these kinds of barebones systems even better, with lower power consumption and better integrated graphics performance on offer. Unfortunately Gigabyte Brix prices are yet to be announced.