Medion has launched a new attractively priced All-in-One PC called the Medion Akoya P2004. The new desktop looks nicely minimal in design and is well equipped for general home computing, featuring an LED backlit 23.6-inch 1080p display, a dual-core 3.2GHz Core i3, 4GB of RAM, a 1TB hard drive and a DVD writer. The spec is complemented by a useful selection of ports including USB 3.0 and a 7-in1 card-reader, also a built-in webcam and microphone make it easy to use for Skype etc. However the Medion Akoya P2004 is limited in its 3D graphics/gaming capability by the integrated Intel HD 2500 GPU which is only about half as powerful as the Intel HD 4000 chip.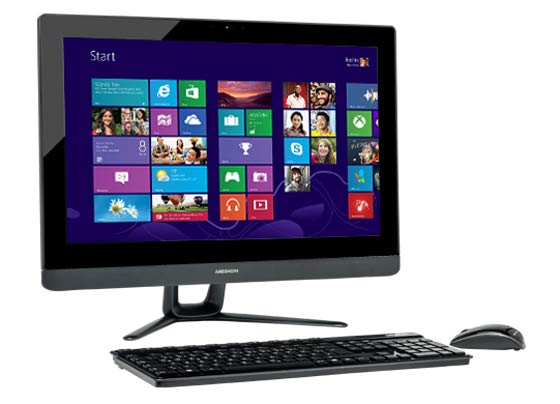 Key Medion Akoya P2004 tech specs:
CPU: 3rd Generation Intel® Core™ i3-3220 Processor (3.30 GHz, Intel® Hyper-Threading technology, 3 MB Intel® Smart Cache)
GPU: Intel® HD Graphics 2500
Screen: Full HD 1080p 23.6" screen with LED backlight technology
RAM: 4GB DDR3
Storage: 1TB HDD, Multiformat DVD/CD Burner
Connectivity: Wireless LAN IEEE 802.11 n, Gigabit LAN 10/100/1000 Mbit/s, 2 x USB 3.0, 4 x USB 2.0, HDMI in and out, microphone, headphone, line out, 7-in-1 Multi-card reader. (Some ports side mounted for easy access)
Multimedia: Integrated webcam and microphone, Integrated stereo loudspeakers
Accessories: Wireless keyboard and optical Mouse, comes with stand or can be wall mounted using standard VESA mount
Software: Windows 8 64-bit
Dimensions: (with stand) 58 cm x 43 – 46 cm (tiltable) x 19.6 cm, 10.3Kg
2 year guarantee
Most readers will know that Lenovo has held a majority stake in Medion since mid-2011, so I wasn't surprised to find an almost identical Lenovo version of the above AiO PC for sale. The Lenovo C540 is advertised as a 23-incher on Amazon but it may still contain the same 23.6-inch panel; also the C540, as advertised at £579.99, comes with 6GB of DDR3 RAM as standard. I can't see any other material difference. The Lenovo C540 model was released in January this year.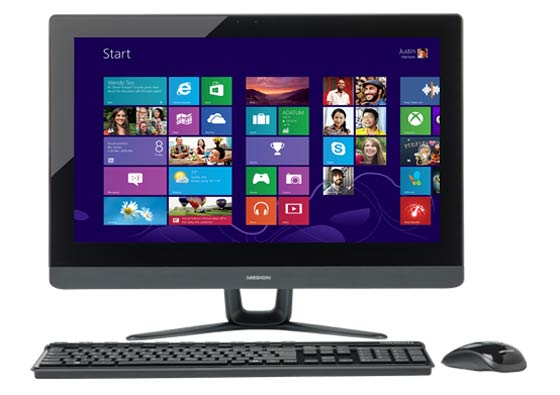 The Medion Akoya P2004 is currently an ASDA exclusive in the UK, so if you are interested in this new AiO you can go down to the supermarket and put one in your trolley.