A new computer system allowing users to reach inside the user interface to navigate the OS and manipulate virtual objects has been demonstrated at the TED Conference in Los Angeles. The SpaceTop 3D computer is a project by MIT graduate Jinha Lee who previously worked in collaboration with Microsoft on the development.
The SpaceTop 3D allows computer users to type, click and sketch in two dimensions in a space behind the screen. To move and work in the 3D space users simply lift their hands and manipulate the UI and the content that floats in the 3D space above. Please have a look at the video below, to see the system in action.
The SpaceTop computer uses a transparent LED display with built-in depth cameras. The depth camera sensor system allows the computer to track user hand positions and also cameras on the front track the user's head movements to change perspectives and parallax.
The system also implements bimanual interaction where each hand is used for "an interaction of different fidelities" or parameters. Lee said the SpaceTop 3D system is useful because "The gap between what the designer thinks and what the computer can do is huge. If you can put your hands inside the computer and handle digital content you can express ideas more completely."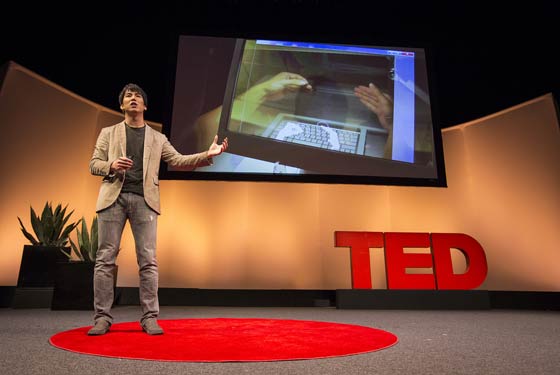 After watching the video of the SpaceTop 3D system in action I am not so interested in this actual computer hardware. However it is good to see these kinds of user interfaces being worked on, which would be useful when paired with less "in-your-face" hardware like a version of Microsoft's Kinect or the Leap Motion controller. In effect I think the SpaceTop 3D is like a "reverse Kinect".
Incidentally it was confirmed this week that the Leap Motion will ship from 13th May. However pre-order prices have reportedly increased from $69.99 to $79.99. I'm hoping to buy a new ASUS Haswell powered laptop with a built-in Leap motion controller following Computex 2013, however the wife isn't so sure my Centrino laptop is old enough to decommission yet...