There's been a lot of coverage on HEXUS and other websites of the card-sized computer, the Raspberry Pi and its intent to introduce people to the world of programming at a low-price, however, despite best attempts, the Pi, with its embedded Linux operating system, doesn't exactly have the lowest entry-point and is focused more on high-level applications programming.
Whilst the Pi and several ARM Cortex-AX boards, targeted at applications programming have been dominating the news, ARM and its licensees have been making leaps and bounds in the low-power microcontroller market, slowly bridging the performance gap between complex applications processors and what had typically been small, simple 8-bit microcontrollers, such as Atmel's AVR and the PIC chip.
This bridging has been accomplished with the Cortex-M series of microcontrollers, which brought low-power 32-bit processing to a market traditionally dominated by 8-bit components. The latest iteration of the Cortex-M is the M4F, which features advanced capabilities such as full debug and trace, memory protection and a full floating-point unit with DSP operations. Devices incorporating the M4 have been witnessed as fast as 200MHz, which is typical ARM 7 and 9 territory, however, subtle optimisations make the Cortex-M series ideal for direct control of electronics and componentry.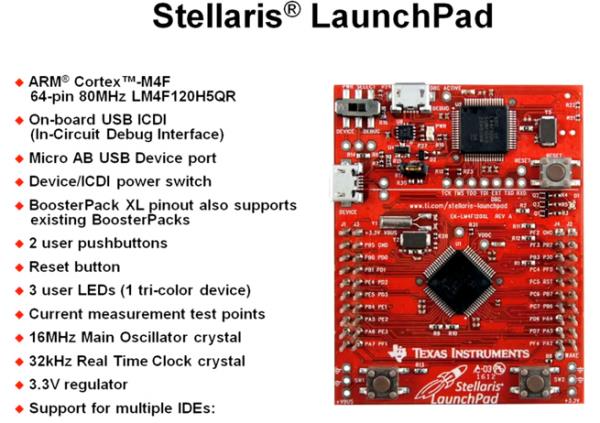 Spotting the new gap in the market generated by the the Cortex-M4, Texas Instruments has launched it's Stellaris LaunchPad, featuring an ARM Cortex-M4F clocked at 80MHz, an integrated debugger/programmer, a handful of LEDs and push-buttons, with headers for a range of expansion boards, all for the low price of £10.
Whilst this isn't a chip you'd typically wish to run a full-scale operating-system upon (though it's certainly possible), TI supplies a free library of software, which includes peripheral drivers, a compact real-time OS, bootloaders, math, graphics, USB and encryption, which can be built with either TI's free software solution or various 3rd party professional packages.
Expansion boards include a range of connectivity options, including WiFi, ZigBee, Bluetooth, along with OLED and LCD displays, inductive chargers, SD card slots and much more.
If cheap entry-level is what you're really after, then the Stellaris LaunchPad could be for you; what's more is, it easily translates into real production products. If you're already comfortable with the Raspberry Pi, then the LaunchPad could be the ideal peripheral expansion board for interfacing with electronics.