AMD has published a new video presentation showing off the capabilities and utility of the DockPort connection standard. The DockPort standard was drafted by both AMD and Texas Instruments and was first shown as a concept under the name of Lightning Bolt at CES 2012. At the recent CES 2014 DockPort was adopted as an official royalty free DisplayPort standard extension by VESA.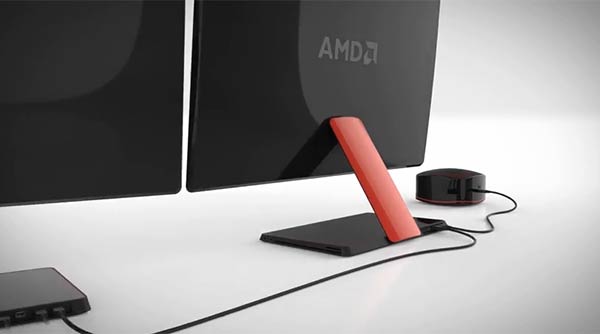 Display, data and power – in one connector
The emerging DockPort standard enables high-speed USB 3.0 data over existing DisplayPort connectors. A DockPort cable will also provide power transmission, enough to power and charge a laptop, for example. This combination provides a lot of functionality in one cable/ connector; "With just one inexpensive connector, users can now access power, a mouse, keyboard, external optical and hard disk drives, printers, gaming controller, and up to four external monitors. That's a lot of capability from a single, standardized connector," explained Steve Belt, AMD's corporate vice president of strategic alliances
The video shows AMD's Discovery Tablet reference design making use of the DockPort for many of its important functions. The port is used to power/charge the tablet and this same port on the tablet is used by the keyboard dock to connect to it and transform it into a 2-in-1 design. This emphasises the docking qualities of the port – as the docked tablet automatically reads the camera roll from a memory card inserted into the keyboard unit.
The AMD video also shows the ability of DockPort to daisy-chain and connect several component blocks to expand the computer including; a power brick, speakers, a HDMI out port, network sharing, multiple displays, a pair of USB ports and an SSD drive.
Wes Ray, systems and applications manager for Consumer and Computing Interfaces at TI said about the new standard; "As an open standard, DockPort will be readily available for designers to implement and more quickly deliver the convenience of a single connection in devices such as tablets, notebooks, docking stations and dongles."
A cheap Thunderbolt?
One of the VESA directors, Craig Wiley, Sr. Director of Marketing for Parade Technologies, said that the DockPort connector, while backwardly compatible with DisplayPort devices, offers functionality similar to Thunderbolt connectors. "We expect the DockPort feature will appear in main-stream products since its performance is tailored for standard connectors and passive cables," said Wiley. The lack of royalty payments required for controllers and use of passive cables should make DockPort cheaper and more accessible than Thunderbolt and help adoption of the standard after it is finalised in H2 this year.