Texas Instruments Incorporated (TI) has announced a new family of lithium-ion battery charger integrated circuits (ICs) that can reduce charge time by 50 percent in smartphones and tablets. The new 4.5-A, 20V Li-Ion switch-mode battery charger ICs go are named the bq2419x family. The new range supports the I2C interface and USB On-the-Go (OTG).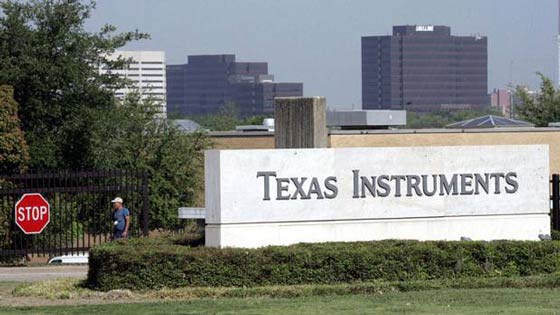 In addition to significantly faster charging TI's bq2419x family offers more efficient, cooler and safer charging making them suitable for power banks and packs, 4G LTE routers, Wi-Fi speakers, portable medical and industrial designs as well as the aforementioned smartphones and tablets. The charge circuitry is also more accurate and offers "programmable thermal management capability to ensure the safest, most reliable system operation".
To summarise the benefits of the bq2419x family TI has put together this bulleted list:
Faster charging for single-cell lithium battery packs: 4.5-A output, 20-V input chargers cut charge time in half with unique battery path impedance compensation.
Cooler charging with highest efficiency: 4.5-A switch-mode charger achieves 92-percent efficiency at 2 A and up to 90-percent efficiency at 4 A of output current. Meets Energy Star and European Union charging specifications. Programmable thermal regulation temperature significantly improves system-level design.
Longer battery run-time: Integrated battery discharge MOSFET provides the industry's lowest on-resistance of 12 milliohms.
Highest efficiency for USB OTG: 92-percent boost efficiency at 2.1 amps with the bq24195.
Safe charging: Prevents overvoltage, protects the battery and system during charging. bq24193 supports JEITA guidelines.
Simple to design: Smallest, most integrated battery charging solution (4-mm x 4-mm QFN package) integrates Power Path management, synchronous FETs, integrated current sensing, internal loop compensation and bootstrap diode.
The new 4mm square battery charging ICs are available straight away and cost as low as $2.50 per unit in batches of 1,000. Designers can order the evaluation modules (EVM, shown below) to work on integrating the bq2419x family into their designs.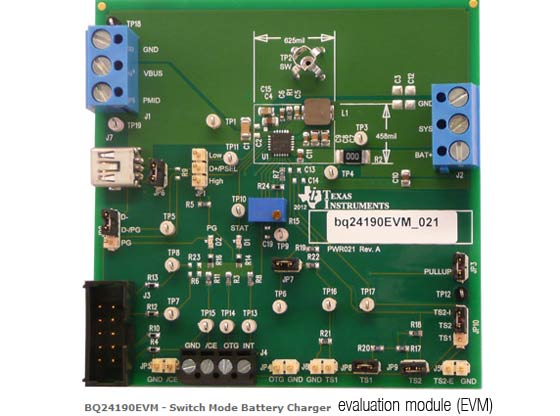 Battery charging speed developments like this as well as more efficient, higher capacity batteries will combine to make our portable electronic lives a lot more comfortable in the future. We looked at portable nuclear batteries last week here on HEXUS, also there was news on the BBC yesterday concerning an organic bio battery breakthrough.