Next week the Worldwide Developers Conference (WWDC) starts in San Francisco and there is a lot of expectation that Apple will be showing off new software and hardware. Pundits are expecting more Mountain Lion details and iOS 6 information. On the hardware front there is speculation that some new or updated Apple computers or electronics devices will also be seen for the first time.
Today a photograph from a Chinese web forum has emerged purporting to be the spec list from the new 13-inch MacBook Pro refresh carton. The photo is reproduced below.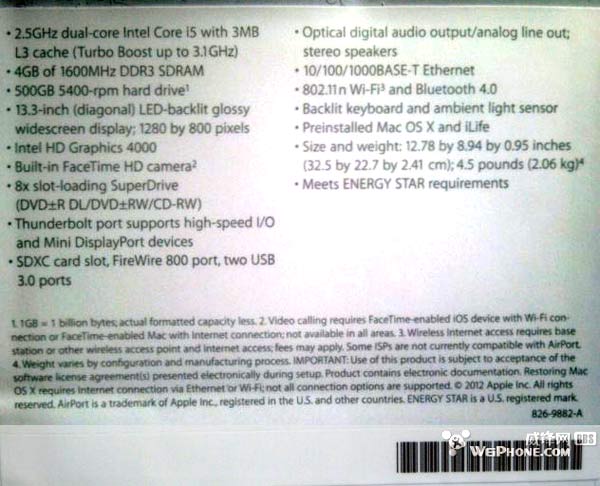 Reports at 9 to 5 Mac indicate that most of the Mac computer lines are shortly to be updated and the 15 inch MacBook Pro and some MacBook Air models will feature Retina display models. This leaked spec for the MacBook Pro 13-inch is, in comparison, rather unexciting. The main points of change are that the new MacBook Pro 13-inch will be Ivy Bridge based, feature Intel HD 4000 graphics, USB 3.0 ports and faster 1600MHz DDR3 RAM.
The MacBook Pro 13-inch refresh 2.5GHz processor detail corresponds to the Intel® Core™ i5-3210M Processor. That's a slight upgrade on the previous versions 2.4GHz chip. The 13-inch display uses a resolution of 1280 x 800 pixels. The weight and thickness of the laptop remain unchanged.
Overall it seems like the leaked photo is of one of the least interesting new refresh models that will be announced at WWDC next week. This unsensational photo and February's iPad logic board leak from the same Chinese forum, which proved to be accurate, gives credibility to these new MacBook Pro 13-inch specs. Apple hasn't commented on the leaked specs.