Google Chrome OS has been with us for a year and it has just received its biggest update yet. The newly revamped Chrome OS (R19) features a more traditional windowing desktop UI among other enhancements. Yesterday Samsung revealed two new Chrome OS devices to make use of the new OS; the Samsung Chromebook Series 5 550 and the Samsung Chromebox 3.
The Chrome OS update
The latest Chrome OS offers the user a desktop GUI rather like Windows 7. Previously the Chrome browser couldn't be moved to display anything behind it but now it acts just like an app within Chrome OS. There is a quick-launch area on the lower left of the screen where you can pin your favourite apps. On the lower right of the screen are the settings, control panel and clock.
The new OS will be able to run online and offline using local storage which will be synced when you go back online using Google services (including Google Drive shortly). Local storage is something that Google wanted to move away from with its cloud computing vision but ideals often don't meet practicality very closely. Offline editing of Google Docs isn't in R19 but it is in testing and will be rolled out shortly.
Seth Rosenblatt of cnet has made an informative video showing how you work with the new Chrome OS and discussing some of its capabilities.
The new Samsung hardware
Samsung yesterday announced availability of two new Chrome OS devices in the form of the Series 5 550 Chromebook and Series 3 Chromebox. We are familiar with Chromebooks but this newly released model has a much more perky performance (2.5x using the v8 benchmark) thanks to using an Intel Dual Core processor in place of the slower Atom CPU in previous models. The Chromebook is being sold at $450 for the Wi-Fi version and $550 for the version with 3G data capability. The Series 5 550 has a 12.1 inch screen at 1280x800 pixels, 6 hours of battery life, 4GB of RAM, Ethernet and Wi-Fi and 2 USB ports.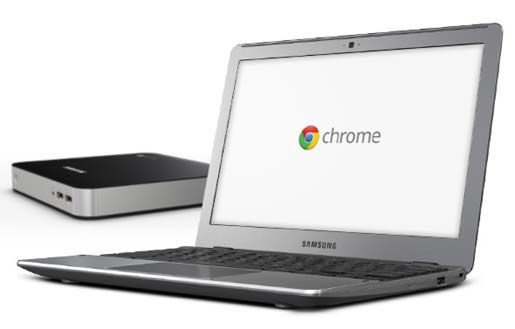 The Chromebox is similar in size and shape to the Mac Mini, as you can see in the picture below. This computer is priced at $330 but you have to buy a monitor, keyboard and mouse to partner it. However you may be able to use your TV using the DisplayPort ++ connector. This mini computer is 3.5x faster than last year's Chromebooks when tested with the JavaScript v8 benchmark suite.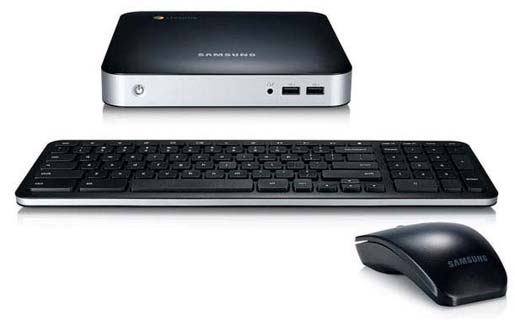 Chromebooks/boxes sound appealing with their cloud services and updates handled by Google, hopefully keeping hackers and malicious software off your computing device. The systems have found favour in call centres and other group working situations. They are relatively easy to administrate and integrate into work environments. For computer enthusiasts the systems seem to be getting closer to being interesting but still too expensive for the capabilities offered. It is possible to try the Chrome OS booting from a USB stick on your existing computer if you like to tinker. (This didn't work on my old CULV dual core laptop, which mustn't be close enough to what was expected).