Intel previewed its NUC 11 Extreme Kit Beast Canyon SFF PC at Computex at the end of May. Now it has announced that it is (almost) available to configure and purchase as pre-orders go live at various retailers. If you live in the US or the UK (perhaps other regions too) you can pre-order currently via specialist retailer SimplyNUC, which offers Intel Core i9-11900KB and Core i7-11700B-based options – both those processors are 8C/16T, there will be no Core i5 version.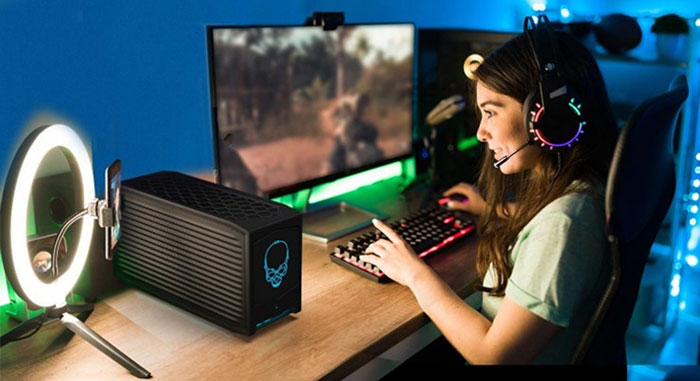 Intel's new Beast Canyon is somewhat larger than last year's Extreme NUC, at 8 litres vs 5 litres. However, the extra capacity affords users a broader GPU choice, which must be welcomed right now, with the Intel NUC 11 Extreme ready for GPUs up to 12-inches / 300mm in length. Previously, users had to hunt around for 8-inch or 20cm AICs. Similarly, the PSU has been upgraded from 500 to 650W with the latest compact NUC PC from Intel.
Simply NUC is offering the two configurations (11th gen Core i9 and i7) mentioned above, ready to roll but without any GPU pre-installed – using the on-board iGPU for graphics output duties. The retailer says that the machines are ready for cards "with performance levels up to NVIDIA GeForce RTX 3080," and the spec sheet suggests that 350W is the max AIC power consumption supported.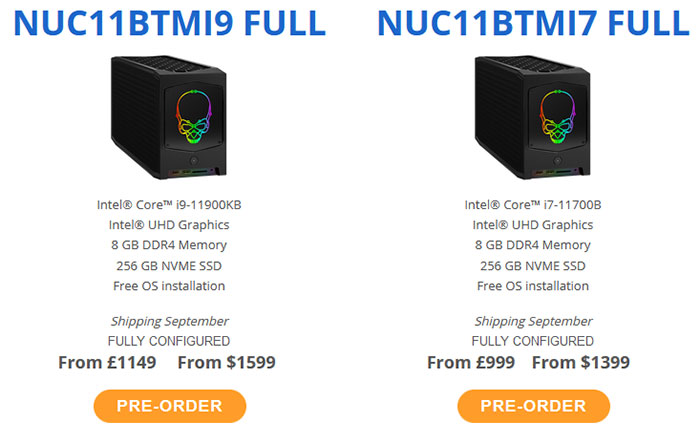 The pre-build configurations are rather anaemic. As standard, they come with just 8GB of RAM, 256GB NVMe SSDs, with a "free OS installation" service. When you click through to the pre-order page you can configure them with up to 64GB of RAM, triple 8TB SSDs, a choice of GeForce RTX 3060 Ti or RTX 3070 (at inflated prices, not MSRPs), and with other AIC, OS choice, expansion and peripheral options. Standard connectivity includes; six USB 3.1 Gen 2 ports on its rear, alongside Ethernet, HDMI 2.0, and two Thunderbolt 4 ports on the rear - two USB 3.2 Gen 2 ports and an SDXC card slot on the front.
Intel NUC 11 Extreme shipments are expected to start in September. You can see the base prices in the screenshot above.
Intel Q2 2021 earnings
Intel published its second-quarter 2021 earnings news release and presentation last night. An executive summary slide is reproduced below, highlighting revenue, IDM 2.0 progress and momentum, and a progress report on technological execution.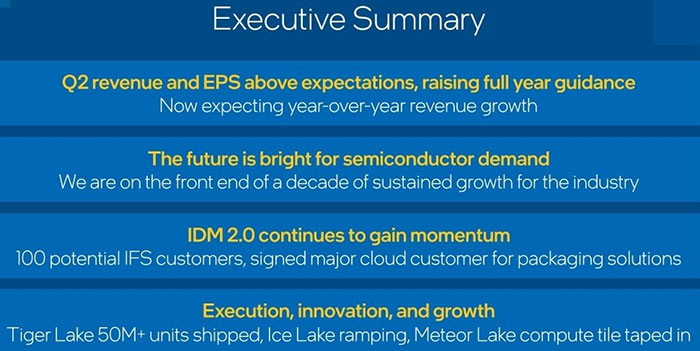 Some of the key things looked for by investors for a positive day ahead are a company beating expectations, which Intel has done in revenue and EPS terms, and some positive forward-looking indicators. Prospects look decent with semiconductor demand showing no signs of slowing down, a new major cloud customer signing for IDM 2.0 services, and while Intel is down 9 per cent YoY in the client CPU race – it is up 16 per cent QoQ. Intel has managed to sidestep the substrate shortages with good control of its supply chains – an IDM advantage.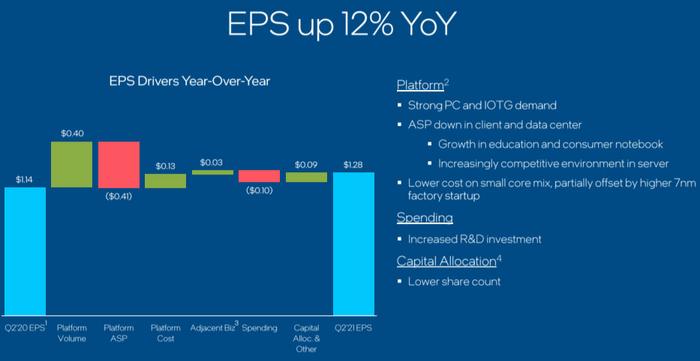 Impressively, Intel has brought down 10nm wafer costs by 45 per cent YoY, its 10nm volume has surpassed 14nm ahead of schedule, with 50 million Tiger Lake chips shipped and millions of Alder Lake chips expected to ship before 2021 is out.
Another thing you can see on the latest balance sheet is that Pat Gelsinger has, despite revenue being flat, pumped up investment in R&D by 11 per cent YoY.