If you are in the market for an ultra-compact PC the Intel NUC range might be a good place to start looking. With each generation these machines are improving, and Intel has even made (and has plans for new) NUC offerings for gamers. A few hours ago a new general purpose, or mainstream, NUC was spotted online by Twitter-based PC hardware enthusiast momomo_us. These Frost Canyon NUCs are the first to be based upon Intel's 10th gen Comet Lake Core processors and are due to arrive before the year is out.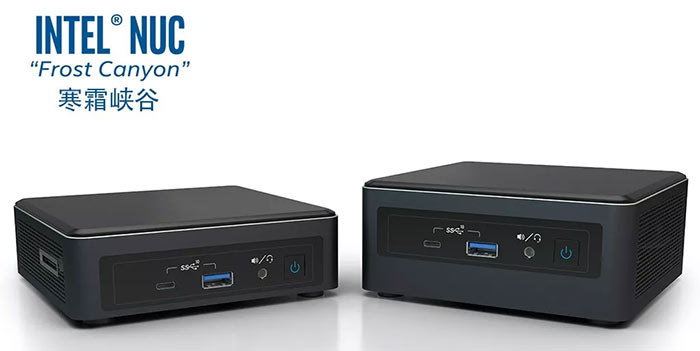 As you can see by the images in this article, the new Frost Canyon NUCs don't look very different from their Coffee Lake powered Bean Canyon predecessors. A small but perhaps attractive change to the exterior is the swapping out of a USB Type-A port on the front for a Type-C receptacle - so that's two USB ports and an audio combi jack in line with the power button. The back set of ports appears to be identical to what was on offer with the predecessor; HDMI, Ethernet, 2x USB 3, and a Thunderbolt port, plus 19V power input. There is a microSD card slot on the side too in both older and new generations.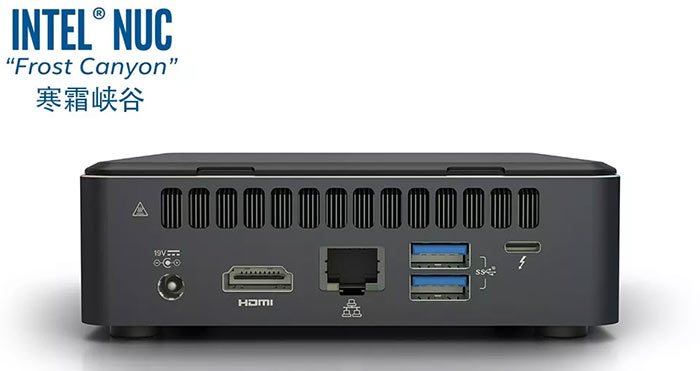 Fanless Tech managed to dig out an extra slide with the highlighted specs of three new Intel Frost Canyon NUCs. It says that there will be three of these new NUCs, offering a choice of 10th gen Core i5, i5, or i7 processor - all 10W to 25W configurable TDP examples.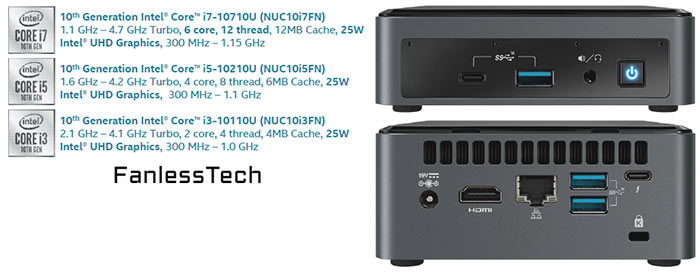 As per usual with the NUC line, you can expect Intel to sell shorter models with just an M.2 slot storage option, and taller models with the added capacity to fit in a 2.5-inch drive to supplement your SSD. You can see both of these 4x4 forms pictured within this article.
The most powerful new Frost Canyon NUC, the NUC10i7FN, is powered by a 6C/12T Core i7-10710U processor, with 12MB L3 cache, up to 4.70GHz Turbo Boost, and UHD Graphics clocked at 1.15GHz.
The NUC10i5FN is powered by the 4C/8T Core i5-10210U with 8MB L3 cache, which offers up to 4.20GHz Turbo Boost, plus UHD Graphics with up to 1.00GHz.
Bringing up the rear is the NUC10i3FN, powered by the 2C/4T Core i3-10110U, with 4MB L3 cache, clocked up to 4.10GHz, and with UHD Graphics clocked at up to 1.00GHz.
These new Intel Frost Canyon NUCs are expected to become available from 12th December.