Last week HEXUS reported on Intel's 'Quartz Canyon' Xeon-powered NUC Workstation. This will be the first Xeon NUC from Intel and will be targeted at the entry level workstation market - for content creation, CAD/manufacturing, financial services applications and so on. Today's news isn't of a first as such, but rather the development planned for Intel's range of gaming orientated NUCs.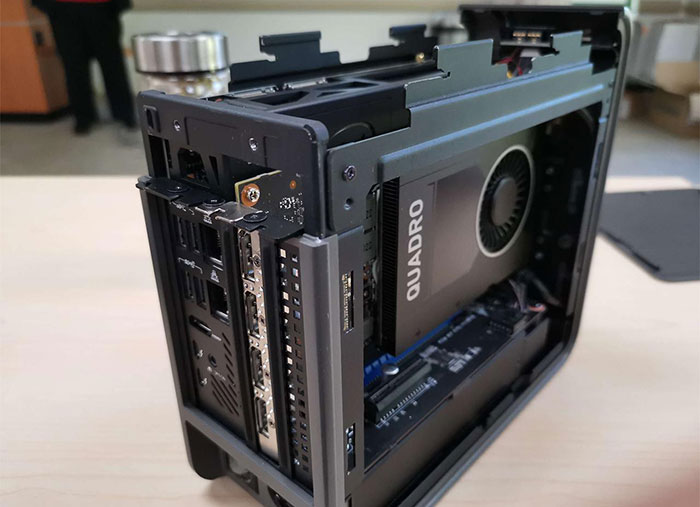 Intel Quartz Canyon NUC laid bare
HEXUS has reviewed a number of Intel NUC machines over the years with the most recent being the first gaming NUC - the Intel Hades Canyon NUC (NUC8i7HVK). It is about time for a follow-up don't you think? Intel does indeed have the gaming-oriented Ghost Canyon in incubation, but it seems reluctant to launch this machine - we first spotted it just before Xmas last year. Today's news is about the successor to Ghost Canyon - the Phantom Canyon gaming NUC.
FanlessTech tech spotted some slides on Chinese forum ChipHell this weekend, which purportedly show off the Phantom Canyon concept from Intel. The slides, which were shown to Intel industry partners in a private presentation, show some very early stage of development Phantom Canyon plans.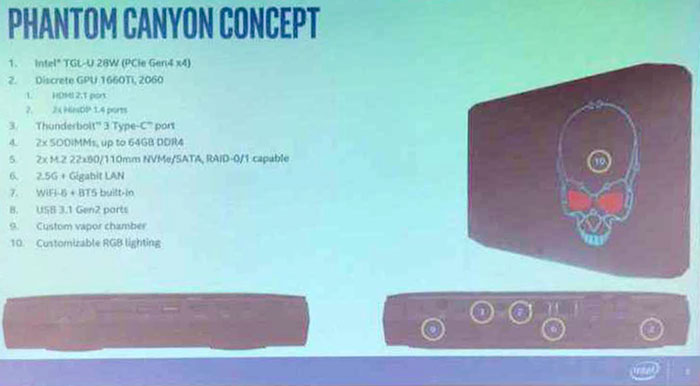 It is good to see that someone snapped a photo of the proposed spec list which confirms the hardware plans as they stand at this time. It looks like being an impressive compact machine (but by 2021, perhaps much less so).
Key specs you can see above are that the system will come packing a 28W Tiger Lake SoC, which offers PCIe gen 4 x4 connectivity, there will be a discrete GPU option with the Nvidia GeForce GTX 1660 Ti and RTX 2060 in the frame at this time, there will be a Thundebolt 3 Type C port, 2x SODIMM slots, 2x M.2 NVMe slots, 2.5G+ Gigabit LAN, Wi-0Fi 6 and BT5 built-in, as well as some USB 3.1 gen2 ports.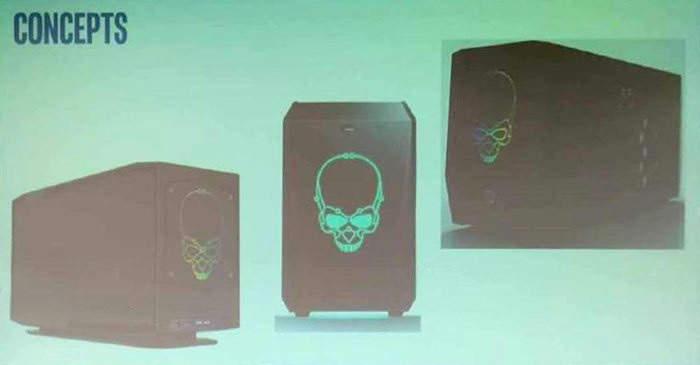 The system, which looks like quite a departure from the design of the current Hades Canyon NUC in some slides, will employ custom vapour chamber cooling plus offer customisable RGB lighting of that skull and perhaps other zones.
While we await the arrival of the Ghost Canyon NUC, the Phantom Canyon isn't expected to arrive by 2020 to 2021.