One of the key signatures of technological advancement over the years is miniaturisation. So it is always good to see the size of 'fully fledged' PCs challenged. With this in mind, below you will find summaries of a tiny Windows 10 PC called the iLife MP8 Micro PC, and the new Gigabyte GA-PICO3350 Pico-ITX motherboard.
iLife MP8 Micro PC
The iLife MP8 Micro PC was shown off among other compact marvels at a tech show in Hong Kong last week. Notebook Italia shared details of the reveal, which were translated and interpreted by compact computing specialist Liliputing.
This tiny cube is said to be about a quarter of the size of a typical Intel NUC system. Though no specific measurements were given we can see it in various pictures in a hand, and thanks to the standard USB and HDMI port sizes we can give a guesstimate of the dimensions. I'd say it is 50mm square and 45mm deep (using measurement tool in Photoshop). Though it isn't much larger than a typical smartphone charger it also needs a power source…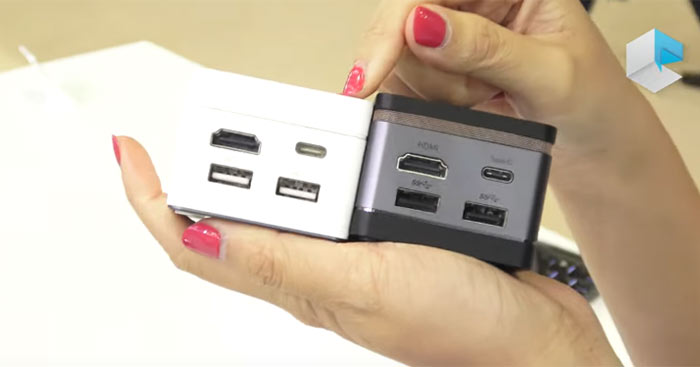 Inside the iLife MP8 Micro PC is a 6W Intel Celeron N4100 4C/4T Gemini Lake processor with base/boost of 1.1/2.4GHz, 4GB of RAM, 64GB of storage. A small fan actively cools the CPU/components. To the front is a power button and round the back you can find a USB Type-C port, two USB 3.0 ports and an HDMI port. Users will need to power the machine via the USB Type-C port. One side features a microSD card reader and a 3.5mm audio jack.
At the time of writing we don't have any pricing or availability data. Expect to see these for sale in the coming months via outlets like BangGood and GearBest.
Gigabyte GA-PICO3350 Pico-ITX motherboard
This motherboard is designed as the foundation for a PICO ITX 2.5-inch single board computer system (100mm x 72mm). An Intel Celeron N3350 Apollo lake SoC is soldered on. This long-in-the-tooth 6W chip (Q3 2016) features 2C/2T with a base boost of 1.1/2.4GHz.
Other key components and ports are as follows:
Supports Single Channel DDR3L 1600/1866MHz
1 x SO-DIMM, up to 8GB system memory
1 x HDMI, 1 x Dual Channel 24-bit LVDS
2 x USB 3.0, 2 x USB 2.0, 1 x SATA3
1 x mini-PCIe, co-lay with mSATA
Gigabit LAN : 1 x Realtek Lan
1 x TPM2.0 Module IC onboard
12 V DC-in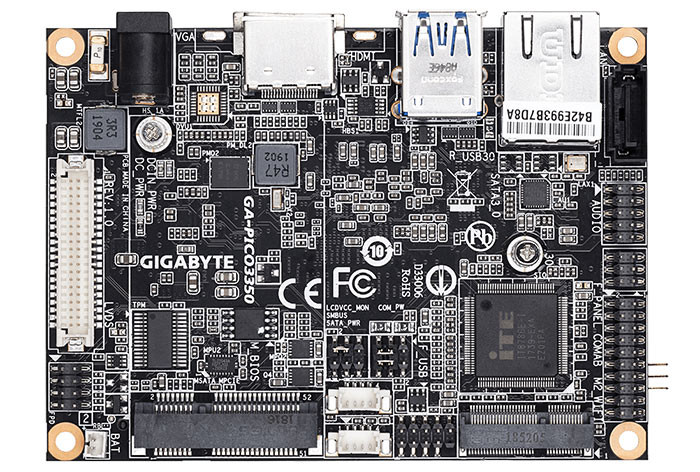 Gigabyte says that the motherboard/SoC can drive up to a 4K monitor from the built-in HDMI port. It also highlights the Ultra Durable construction, humidity and short circuit protections, and electrostatic protection. Additionally, the Intel Gigabit LAN with WOL and PXE support provide further hints at this board's intended targeted audiences.