The UK Research and Innovation (UKRI) Centre has announced that Cray has won the contract to build the Archer 2 national supercomputer. Expected to be 11 times more powerful than Archer, Archer 2 will be built in the same room as the out-going system so there will 2 or 3 months downtime. In brief, Archer 2 will utilise 11,696 AMD Epyc Rome CPUs, delivering nearly 1.5 million processing threads to users.

Archer 2 will bring a significant step forward in computing power accessible to the UK's science and research community. Pre-construction performance estimates are many multiples ahead of the current Archer system (also built by Cray, in 2013), and it should perform 8.7x in CP2K, 9.5x in OpenSBLI, 11.3x in CASTEP, 12.9x in GROMACS, and 18.0x in HadGEM3. Overall, Archer 2's peak performance is estimated at ~ 28PFLOP/s.
The new Cray-built machine, situated in Edinburgh will be fitted into 23 Shasta Mountain direct liquid cooled cabinets. Inside there are 5,848 compute nodes, each with dual AMD Rome 64C / 128T CPUs at 2.2GHz, accompanied by 1.57PB of RAM. The system will also utilise a 1.1PB all-flash Lustre BurstBuffer file system, and 14.5PB of Lustre work storage in 4 file systems. There is a 1+1PB backup / recovery file system too. Cray next-generation Slingshot 100Gbps network is leveraged in a diameter-three dragonfly topology, consisting of 46 compute groups, one I/O group and one Service group.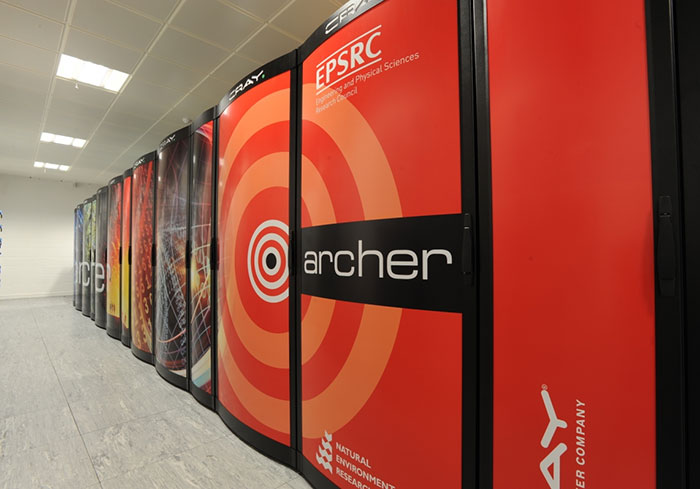 As mentioned in the intro, there will be a period of downtime, as the Archer is replaced in-situ with the Archer 2. Archer is due to end operation on 18th February 2020, and Archer 2 will be operational from 6th May 2020, says the official UKRI supercomputer site. However, potential users will need to wait yet another month for any access as the system is planned to be stress tested for 30 days.