Udoo has signalled that it has begun shipping the first Udoo Bolt Ryzen SoC-powered computer boards to its Kickstarter backers. HEXUS reported upon the AMD Ryzen/Vega powered Udoo Bolt 'maker board' products in June last year. Our report was ahead of the Kickstarter project conclusion, which went on to gain over $630,000 in pledges from backers.
There were two variants of the Udoo Bolt planned but it looks like the v8 model will be first out of the distribution warehouse, with shipments either already happened or scheduled for before Saturday if your order number is <300. To remind you of the difference in specs between the Udoo Bolt v3 and v8, I have reproduced part of the official specs table below. Other than these specifications, everything else is the same when comparing the machines. They both feature 2x DDR4 2400MHz DIMM slots supporting up to 32GB, include a 32GB EMMC, with M.2 SATA and PCIe expandability plus a SATA 3.0 connector, include Gigabit Ethernet, feature 2x USB 3.0 Type-A and 2x USB Type-C (with display, data and power modes), 2x HDMI 1.4 / 2.0A, audio combo sockets, Arduino compatible inputs, and embedded peripherals controller, measure 12x12cm, and are compatible with Windows and Linux.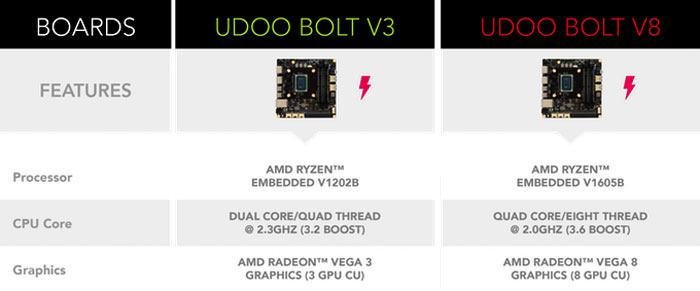 Above you can see the AMD SoC spec choice available, and the latest prices we have are; $229 for the v3, and $279 for the v8. These were the Kickstarter prices though, the Udoo Shop prices might be higher when these products appear there in the coming weeks/months. Other well known tech projects that are supposed to be based upon similar AMD Embedded processors are the Smach Z handheld and Atari VCS console entertainment machines.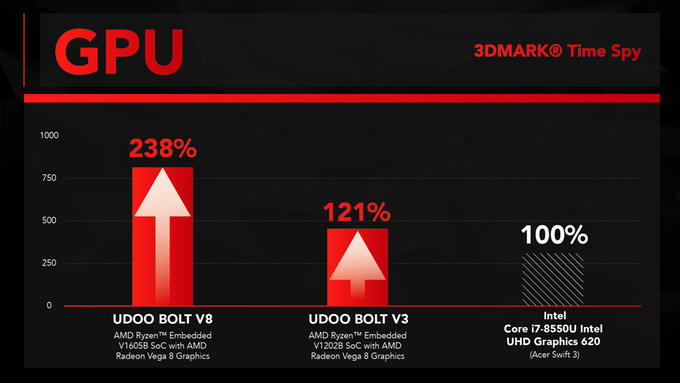 Besides the highly anticipated shipping of these compact bare computer boards, Udoo had some further interesting information in its Kickstarter update posts. First of all the project starters seemed rather excited about some metal cases they have commissioned to perfectly accommodate the Bolt. I quite like the look of these super-shrunken aluminium PC-Tower cases. Elsewhere in the update Udoo sought to clarify the audio interface equipped (Realtek ALC888S), and discuss the power connector spec.

The Udoo Bolt bare board computers were supposed to ship in December last year but obviously that didn't happen. All backers should now see deliveries before the end of April/May, as distribution has begun.