A Kickstarter project that proposes a 'maker board' PC powered by an AMD Ryzen Embedded V1000 processor has found great success in the fortnight since its launch. The Udoo Bolt is a 12cm square bare board that promises to be "almost twice as fast as the MacBook Pro 13-inch," while additionally delivering a powerful GPU, and Arduino compatibility, for US$229. Udoo's project started with a goal of about £75,000 and has already surpassed £305,000 with 46 days to go.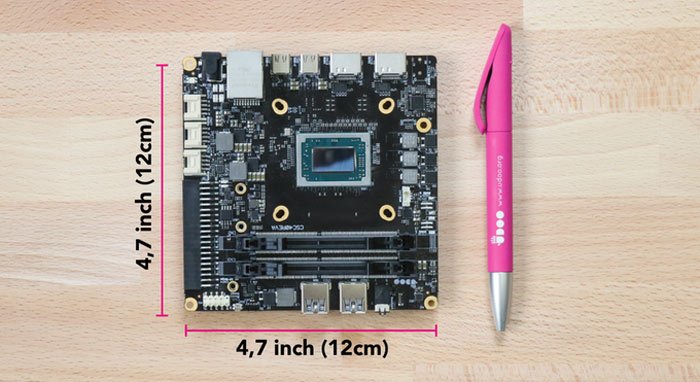 Described as "a quantum leap compared to current maker boards," the Udoo Bolt is said to be a capable AR/VR project computer. Udoo claims the board can "handle any current AAA game, delivering an impressive gaming experience at HD framerates," and they aren't talking about mobile games - the board can run either Windows 10 or Linux - your choice. You also have access to AMD's latest tech, providing fast NVMe SSD storage options, HDR visuals, Multi-monitor viewing, and FreeSync.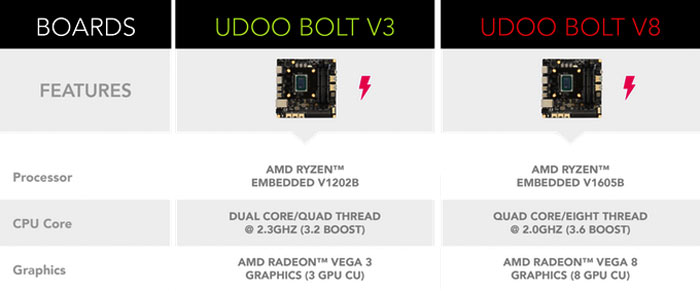 Udoo Bolt tech specs vary, depending upon your CPU choice, as you can see in the table above. The Udoo Bolt v3 is based around the AMD Ryzen Embedded V1202B processor, while the Udoo Bolt v8 is based around the AMD Ryzen Embedded V1605B processor. There is quite a difference between these processors as shown in the table.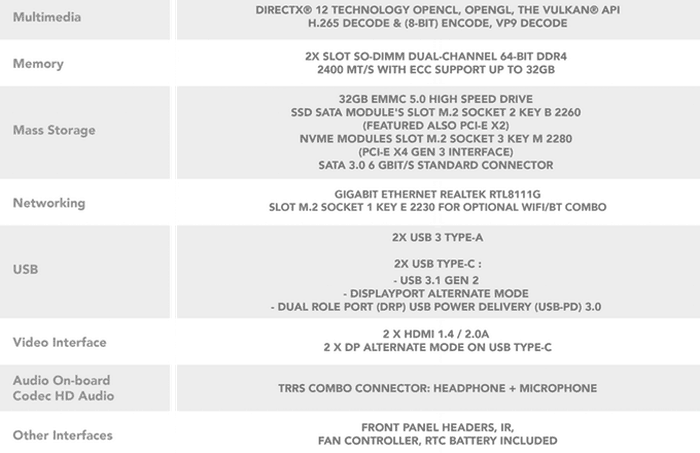 The table above shows shared qualities of the Udoo Bolt v3. Please note as a bare board system you have to supply your own RAM (DDR4 SO-DIMM x2 slots, support up to 32GB), your own OS, and even your own PSU on entry level packages. There is a pre-installed 32GB eMMC storage device but you can upgrade to a faster or more capacious M.2, SATA, or M.2 NVMe SSD. Nicely, it comes with a case, as shown below.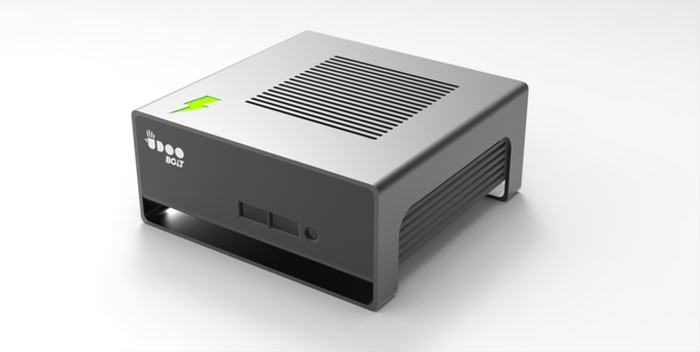 In addition to the above specs, you have the Arduino Leonardo compatible inputs, outputs, connectors and I/O. Remember, as mentioned above you can install and run Windows 10 or a Linux OS on this board which is powered by either a 19V DC in jack or USB Type-C power delivery.
At the time of writing 45 of the Early Bird Udoo Bolt v3 boards were still available at $229. If you prefer the Udoo Bolt v8 that is available in packs priced from $309 upwards.