Benchmarks: Gaming

We don't normally benchmark games on laptops without a discrete GPU, but Ryzen's onboard potential is such that it encouragers the user to dabble with more 3D load. To evaluate how Ryzen 5 2500U's Vega 8 IGP compares to dedicated graphics, we have results from two 15.6in laptops; the AMD-flavoured Acer Swift 3 and an Asus VivoBook S15 outfitted with a previous-generation Core i5-7200U and discrete GeForce 940MX graphics.
3DMark Time Spy gets us up and running with a positive result that suggests Vega 8 is faster than GeForce 940MX to the tune of almost 12 per cent. Not bad for onboard graphics.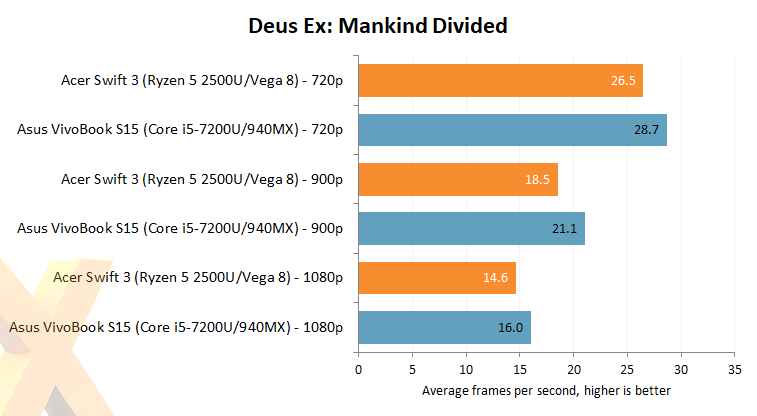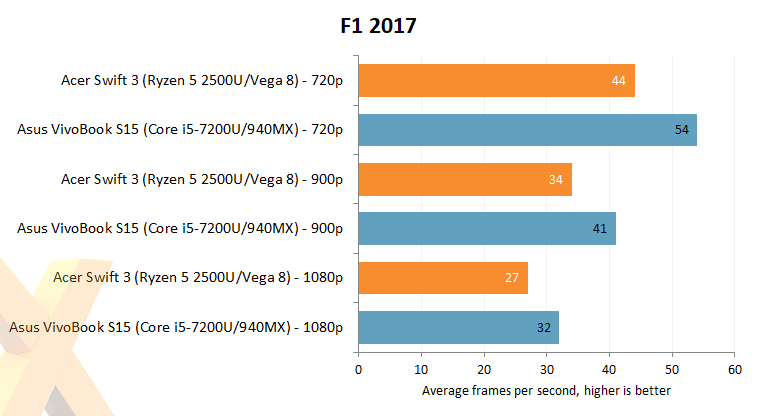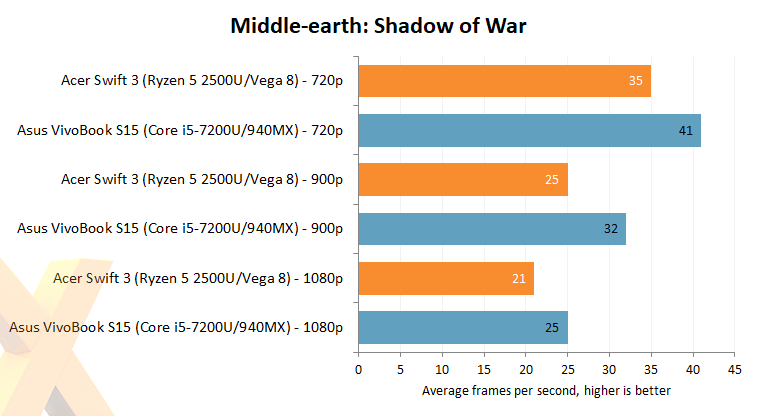 The numbers aren't quite so rosy when it comes to real-world games, where Vega 8 routinely trailed the GeForce 940MX in our tests. Neither is particularly well suited to playing modern titles - all three games fell short of the desired 60 frames per second, even at a meagre 1,280x720 resolution with low quality settings - and we end up in that awkward middle ground where we have graphics that are arguably overkill for everyday multimedia use and not quite powerful enough for silky PC gaming.
Ryzen 7 2700U with full-fat Vega 10 is likely to fare better, yet we come away feeling as though anyone serious about gaming should continue to gravitate toward dedicated GPUs. Were you expecting more? Despite the on-paper promise, Vega 8 is likely going to struggle to maintain peak speeds in a 15W mobile package, memory speeds aren't as high as desktop equivalents, and software optimisations are still needed.
On that note, it's also worth pointing out that we couldn't load Steam on the Swift 3 sample in its out-the-box state. A GameManager32.dll error, which may or may not be related to the AMD driver, prevented us from doing so until we manually deleted the dll from the C:\Windows\SysWOW64 directory. These are niggles that we expect Ryzen laptops to overcome with time, yet it doesn't change the fact that Swift 3, the only AMD-powered machine in our line-up, couldn't launch Steam without a bit of tinkering. A sign of the times, as neither Intel nor AMD are free of software concerns in early 2018.