South Korean Tech giant Samsung has been busy showing off new products at its annual SSD Forum Japan. At the high end it debuted the SM961 and PM961 NVMe SSDs with Polaris controllers and 3D/V-NAND memory technology. Depending upon configuration, such drives could boast of transfer speeds up to 3,200MB/s and IOPS figures as high as 450K. Turning to the mobile market, Samsung introduced its first Ball Grid Array (BGA) SSD chip, the 'tiny' PM971.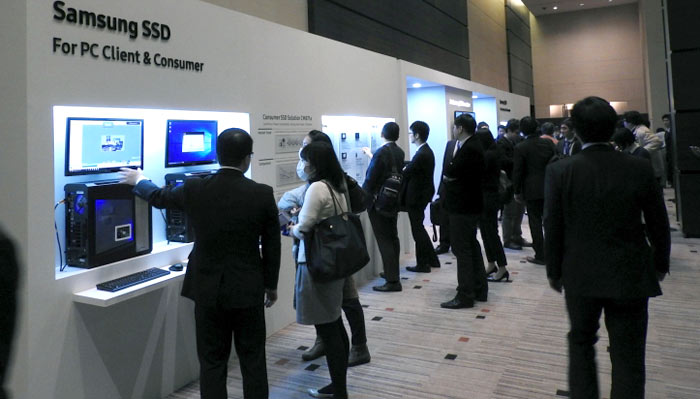 Samsung SM961 and PM961 with Polaris controller
These are the first Samsung SSDs for OEMs to employ 3D/V-NAND memory. We don't know if they are using Samsung second 32-layer or third gen 48-layer V-NAND at this time. However we do know these NVMe M.2-2280 form factor drives will use the new Samsung Polaris controller.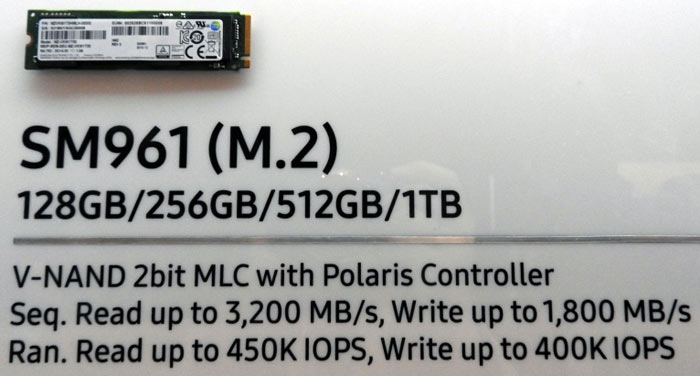 The top of the range Samsung SM961 will be made available in 128GB, 256GB, 512GB and 1TB capacities. As you can see from the above, it offers transfer speeds up to 3,200MB/s for sequential reads and up to 1,800MB/s for sequential writes, with up to 450K random read IOPS and up to 400K random write IOPS. This drive employs 2-bit MLC V-NAND.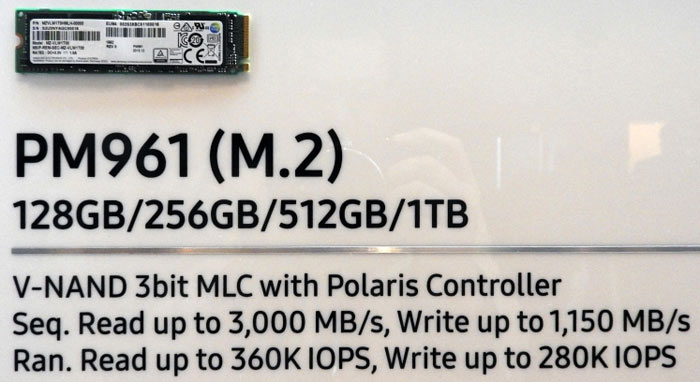 Samsung's new PM961 is a variation on the above but based upon its 3-bit MLC V-NAND. The NAND choice impacts performance and this drive offers transfer speeds up to 3,000MB/s for sequential reads and up to 1,150MB/s for sequential writes, with up to 360K random read IOPS and up to 280K random write IOPS. Of course the PM961 will be cheaper at every capacity while representing a decent step up in performance compared to its ancestors. Both the SM961 and PM961 are expected to be formally launched by Samsung later this year.
Samsung PM971 BGA SSD chip
While at the SSD Forum, Samsung also revealed its first BGA SSD chip for mobiles and tablets. The soldered-in drive is said to be 'tiny' yet would provide a big upgrade in capacity and speed compared to many built-in storage memory chips that are standard today.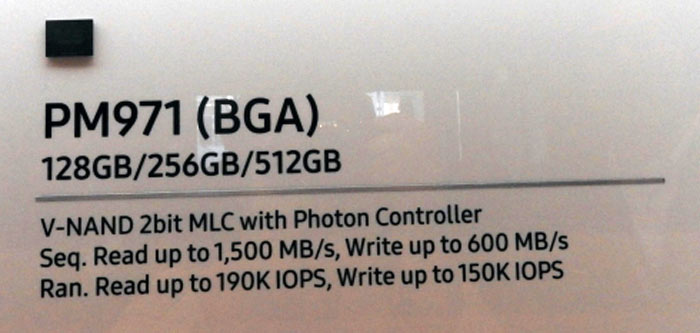 Samsung plans 128GB, 256GB and 512GB PM971 BGA chips. According to The Inquirer report the speeds on offer will be sequential reads of 1,500MB/s and sequential writes at 600MB/s. IOPS figures are 190K for random read and 150K for random write. It is expected that the memory interfaces with the rest of the system via a PCIe 3.0 interface.