Loading...
Been waiting a while?
Get Flash
to see this player.
Dinesh Bahal, VP of Retail Product Marketing at SanDisk, introduces new innovations.
SanDisk has shown off a variety of interesting storage products at CES this year. It has made announcements covering three specific product ranges but overall it has presented new products that were; pushing physical size boundaries, providing greater capacity and provide more rugged, durable storage.
SanDisk X400 M.2 SSD
The SanDisk X400 M.2 SSD is claimed to be the world's thinnest 1TB drive in this form factor. The device is just 1.5mm thick, helped along by its single sided memory IC deployment.

SanDisk says that with more people opting for ultra-mobile computing devices, its X400 SSD should be popular. The SSD's tiny size doesn't mean its electronic durability has been impacted; the 256GB version, for example, is rated to operate for more than 5 years with a workload of approximately 40GB/day. Reliability and endurance are further enhanced by SanDisk's nCache 2.0 and DataGuard technology. For security users can make use of the data protection offered by AES 256-bit compliant encryption and TCG Opal 2.0 compatibility. Based upon SanDisk 6th gen X3 memory tech the new drive is said to sip 90 per cent less power than a traditional HDD.
The X400 is available in 128GB, 256GB, 512GB and 1TB capacities in both 2.5-inch cased and M.2 2280 form factors.
SanDisk flash drive capacity boost
Flash drives are pretty useful devices and SanDisk has announced upgrades of two of its most popular models; the SanDisk Connect Wireless Stick and the SanDisk Ultra Dual USB Drive 3.0.
The SanDisk Connect Wireless Stick now offers up to 200GB capacity. This Wi-Fi connected and password protected device is a convenient solution for sharing between the likes of iPhone, iPad, iPod, Android devices, Fire tablets, Mac and PCs. SanDisk's associated app has also been updated to facilitate content sharing to large screens via AirPlay with Apple TV, and Google Chromecast, and Amazon Fire TV.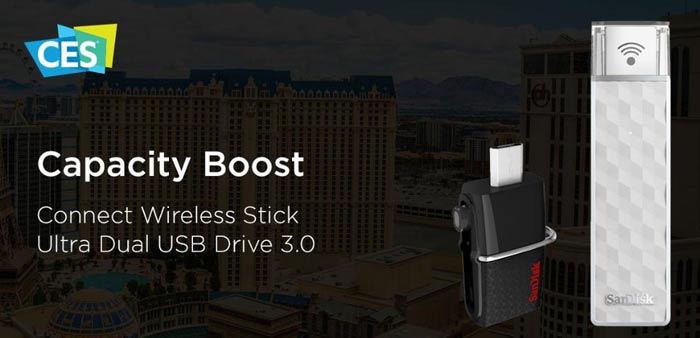 SanDisk's Ultra Dual USB Drive 3.0 is an On-the-Go (OTG) enabled flash drive now boosted up to 128GB of storage. In addition to the higher capacity on offer, SanDisk has improved the performance of the device's USB 3.0 connector, which can now achieve speeds up to 150MB/s from drive to computer.
The 128GB SanDisk Ultra Dual USB Drive 3.0 and 200GB SanDisk Connect Wireless Stick mobile flash drives are now available with MSRPs of $59.99 and $119.99, respectively.
SanDisk Extreme 510 Portable SSD
Headlined as an 'All-Terrain Drive', the SanDisk Extreme 510 Portable SSD is a high-performance, durable, and water-resistant portable SSD. The drive has rubber bumpers and an IP55-rating for water and dust resistance.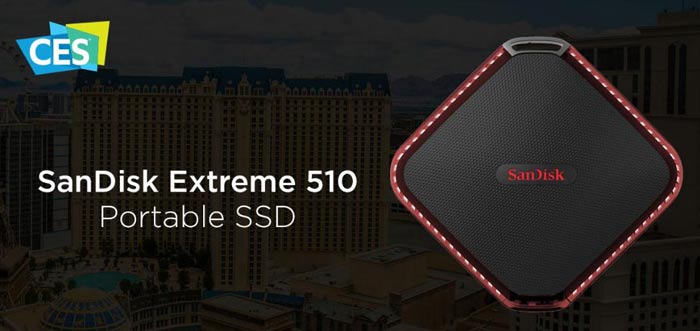 SanDisk thinks that this rugged drive is perfect for photographers and videographers on the road, saving their precious media captures from hazards such as rain, spills and rough, dusty trails as well as knocks, bumps and drops. For data security the drive features SanDisk SecureAccess software with 128-bit encryption. Transfer speeds of up to 430MB/s read & 400MB/s write are achievable with the SanDisk Extreme 510 Portable SSD, helping you to shift big file collections around pretty sharpish.
The 480GB SanDisk Extreme 510 Portable SSD features a two-year warranty and is available worldwide at an MSRP of $249.99.