SSD market to grow exponentially
A new market research study published by Transparency Market Research (TMR) suggests that the consumer SSD market will grow exponentially until at least 2022. Driving the demand for SSDs are features such as lower power consumption, cooler computing, low form factor, and reduced latency. Last year the global SSD market was valued at US$15 billion. By 2022 it is expected to be worth US$230 billion.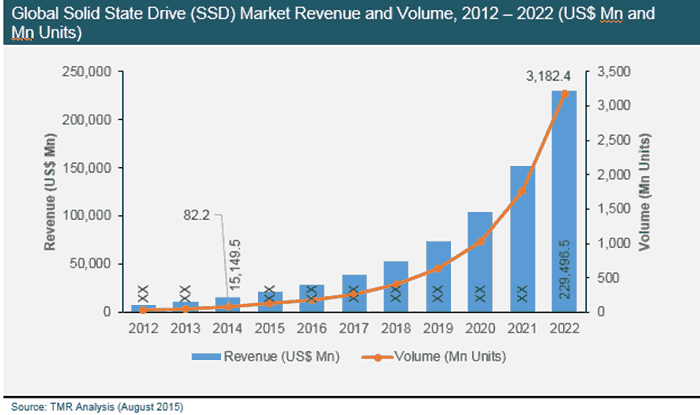 In 2014 consumer SSDs accounted for 88 per cent of industry revenue and 69 per cent of market volume. The average capacity of an SSD sold to consumers was 80GB. Looking at popular interfaces, SATA SSDs enjoyed the highest adoption rates, possibly due to pricing and interface availability. Looking ahead PCI-E SSDs are expected to be the fastest-growing segment, with a CAGR (Compound Annual Growth Rate) of 61 per cent from now until 2022. SSDs as a whole will enjoy a CAGR of over 40 per cent during the same period.
Samsung 950 PRO SSD launches
Samsung's newly launched 950 PRO SSD is said to provide the mass market with an "Enterprise Quality" memory solution. This is Samsung's first consumer-ready Non-Volatile Memory Express (NVMe) M.2 form factor SSD with vertical NAND (V-NAND) technology supporting the PCIe 3.0 interface.
The new M.2 drive is aimed at consumers and businesses alike, who want to enjoy enterprise-quality performance and benefits such as speed, endurance and energy efficiency in demanding applications.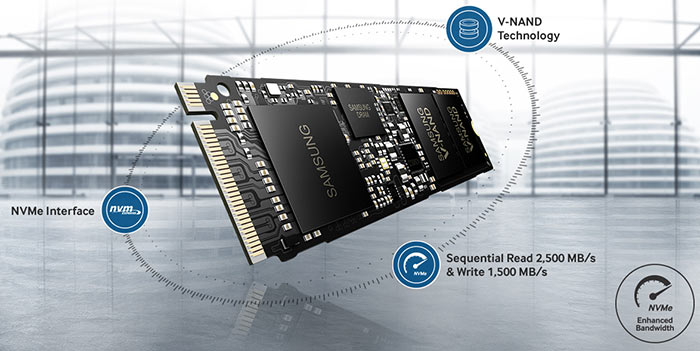 Samsung's 950 PRO SSD will be available in 512GB and 256GB capacities. The larger drive offers sequential read/write speeds of up to 2,500 MB/s and 1,500 MB/s. Random read performance is up to 300,000 IOPS, with write speeds are up to 110,000 IOPS. Both drives offer AES 256-bit Full Disk Encryption and Dynamic Thermal Guard. Buyers will receive a 5-year warranty (for up to 200 terabytes written (TBW) for the 256GB and 400TBW for the 512GB).
Availability of the Samsung 950 PRO SSD will commence next month with the 256GB drive at $199.99 and 512GB drive at $349 (suggested prices).