Just over a week ago we reported upon Toshiba and SanDisk unveiling the world's first 256Gb, 48-Layer BiCS NAND. Toshiba/SanDisk will start sampling its latest chips next month, with mass production expected to start in mid-2016. We won't have to wait that long for devices using similar chips to reach the market though… Trumping its rivals, and to coincide with the Flash Memory Summit, Samsung has announced that it has started to mass produce 48-layer 3-bit MLC 256Gb V-NAND flash chips.
Doubling the capacity of existing SSD lineups
Samsung says its new chips will "easily double the capacity" of its existing SSD line-ups, facilitating the production of multi-terabyte SSDs. However, the benefits coming from the deployment of the new denser chips aren't limited to capacities. Compared to the previous generation 32-layer, 3-bit MLC, 128Gb V-NAND chip, the new chips "sport twice the performance and more than 50 per cent better power efficiency," a Samsung exec said at the firm's Flash Memory Summit keynote. The new chips are also said to be cheaper to produce, achieving "approximately 40 per cent more productivity over its 32-layer predecessor".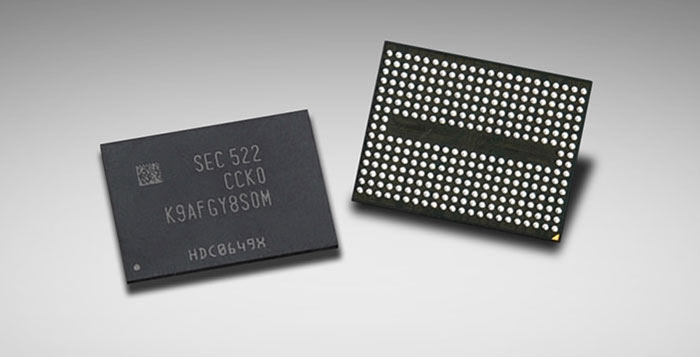 190-layer stacks by 2019
Detailing the technology behind the 256-Gigabit 3D V-NAND Flash, Samsung said that it produces its new chips using the CTF structure stacked vertically in 48-stories. Using its special etching technology it interconnects the memory chips via 1.8 billion channel holes. Each chip contains over 85.3 billion cells, they each can store 3 bits of data, resulting 256 billion bits of data, equal to 256Gb on a chip. Such a chip, pictured above, is approximately the size of a finger tip. Looking ahead, Samsung thinks it will be making 100-layer chips in the not too distant future. Meanwhile SK Hynix suggests that 3D NAND chips with 190-layers will be in production by 2019, according to the EE Times.
Mass production and enterprise SSD announcements
Samsung intends to leverage its mass production quantities of 3rd gen 3D V-NAND in SSDs with densities of two terabytes and above for consumers this year. It will also use the chips in high-density SSD sales for the enterprise and data centre storage markets used in drives with PCIe NVMe and SAS interfaces.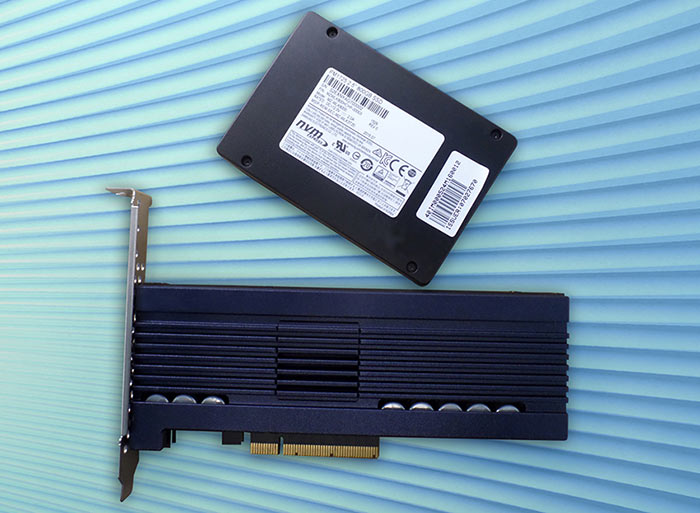 Samsung's range of new enterprise drives, including the PM1725, a one million IOPS 6.4TB NVMe PCIe SSD (pictured above), has been announced today.