HGST has today announced the world's first 10TB hard disk drive, the Ultrastar Archive Ha10. Aimed at enterprise and active archive operations, this HDD combines HGST's second generation HelioSeal platform and shingled magnetic recording (SMR) technologies. HGST says that while both technologies succeed in delivering unmatched storage density and power efficiency there are no compromises in reliability and performance predictability.
Brendan Collins, vice president of product marketing, HGST said of the new Ultrastar Archive Ha10 "HGST's helium-filled drives boasts industry-leading storage density, low power consumption and proven reliability with 2.5M hours MTBF. By layering SMR on top of helium, we are enabling massively-scalable, TCO-driven storage solutions with the performance and durability necessary for the long term retention of archived data".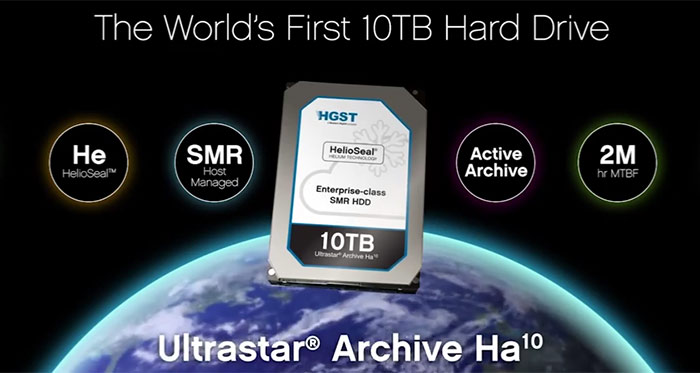 In case you haven't heard of the above two technologies let's do a recap:
HelioSeal is HGST's Helium technology. The firm seals the hard drive mechanism compartment with Helium. This inert gas has one seventh the density of ordinary air so reduces friction and helps lower power usage to lower the heat generated and TCO of the drive. Its use also enables higher disk and data track density. HGST's durable hermetic seal prevents the Helium escaping and opens the door to deployment of the drives in environments such as immersion cooling systems, for example.
In Shingled Magnetic Recording, or SMR, data tracks on the HDD overlap each other like roofing tile shingles. Using this technique HGST avoids using ultra-narrow reading/writing heads, which are weaker, yet still manages to achieve an increased track data density. Further SMR refinements are expected to achieve data densities as high as 3 trillion bits per square inch. A potential drawback of SMR is that it is more suitable to continuous writing/erasing rather than small random-access updates.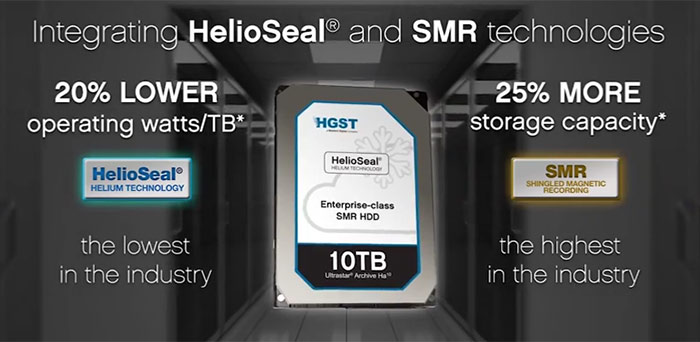 The HGST Ultrastar Archive Ha10 is rated at 2M hours MTBF and buyers are provided with a 5-year warranty with 24x7 availability. The drive isn't a drop-in replacement for traditional enterprise HDDs. It will only be rolled out to enterprise customers who have the ability to develop the software required to make best use of the drives. HGST explains that to benefit from the drive "host applications need to be first sequentialized, which requires adjustments in the software stack to take advantage of the areal density gain, and consequently, the sequential write behavior of host-managed SMR". HGST will help customers on Linux and other select open source OSes to develop the necessary software via an SDK. Detailed drive specifications are available in here.