Samsung has announced that it has begun mass production of the SM951 high performance, low powered PCIe SSD in the M.2 form factor. It expects these storage devices to be utilised in ultra-slim laptops and workstations. This SSD is the successor to the firm's XP941 and beats that device hands down, by providing 30 per cent faster data transfers and 50 per cent better energy efficiency.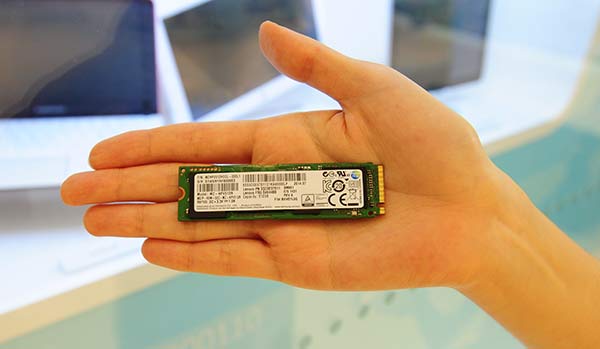 Senior Vice President of Memory Marketing at Samsung Electronics, Jeeho Baek, said that the introduction of the SM951 would help to "accelerate growth of the ultra-slim notebook PC market". Furthermore he suggested that Samsung would continue to improve performance to stand out from the competitive SSD crowds.
The Samsung SM951 supports both PCIe 3.0 and PCIe 2.0 interfaces. If used with a PCIe 2.0 interface the device can read and write sequentially at 1,600MB/s (megabytes per second) and 1,350MB/s respectively. Random read and write speeds reach up to 130,000 and 85,000 IOPS (inputs/outputs per second) respectively.
In new laptops and workstations which adopt the PCIe 3.0 interface performance is even more perky. Official figures say that in this configuration the SM951 can read and write sequentially at 2,150MB/s and 1,550 MB/s respectively. That's about four times as fast as a common-or-garden SATA SSD drive.

It looks like this Samsung SM951 M.2 SSD is destined for a new Lenovo laptop or hybrid
The PCIe 3.0 interface adoption also results in lower power usage, the SM951 uses about half the watts used by the XP941 when active and reading and writing data. When idle the new drive is even more impressive, as the first SSD ever to support the L1.2 low power standby mode, in this mode it uses just 2mW moving up to 50mW in its L1 state.
As an M.2 form factor SSD the SM951 measures just 80mm long and 22mm wide. It weighs about 6g. Samsung will produce SM951 SSDs in 128, 256 and 512GB capacities.