Today Plextor officially took the wraps of its M6e Black Edition high performance SSD. This storage device is a fast PCI Express SSD, "specifically designed for creating a perfect gaming platform". To enhance its performance further it comes bundled with the newly-developed PlexTurbo 2.0 intelligent SSD caching utility.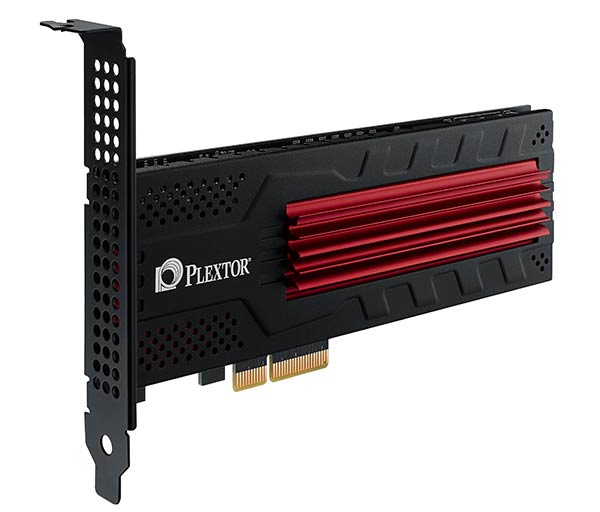 The key hardware components in the M6e Black Edition SSD are the duo-core "server grade" Marvell 88SS9183 controller chip, the Toshiba Toggle NAND Flash and its PCI Express interface. As mentioned in the intro, Plextor adds in its own PlexTurbo 2.0 intelligent SSD caching utility to the mix. It is claimed that this utility "not only outruns other caching technologies in performance but also analyzes a huge amount of operation data to avoid unnecessary write operation to significantly reduce write usage of SSD and to prevent memory data loss when the PC crashes or the power goes out".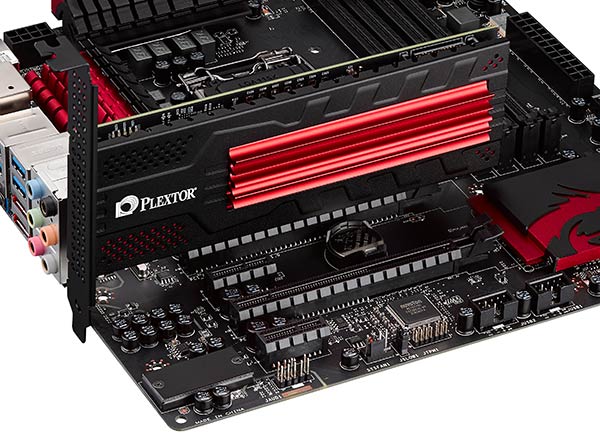 So what kinds of performance can you expect from this SSD? Official figures suggest read/write speeds of up to 770/625 MB/s in sequential mode, and 105K/100K IOPS for random read/write operations. This is great for gamers, thinks Plextor; "We considered the suggestions of global players when designing the look and added the huge black and red cooling fins to quench the thirst of players looking for an advanced gaming platform," said Lear Wu, Global Sales Manager for Plextor. Wu went on to assert that "The M6e Black Edition is absolutely the ideal choice of creating a dreaming gaming platform!"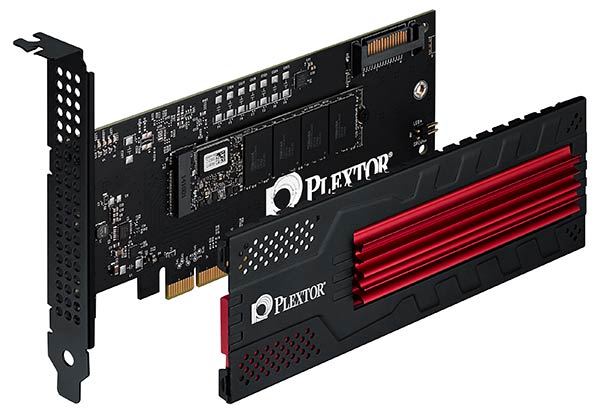 The M6e Black Edition is built with dual booting BIOS chips so you can boot in Legacy or UEFI modes without extra drivers. We are told the UEFI booting time is halved - which helps you get to playing your games library even more quickly.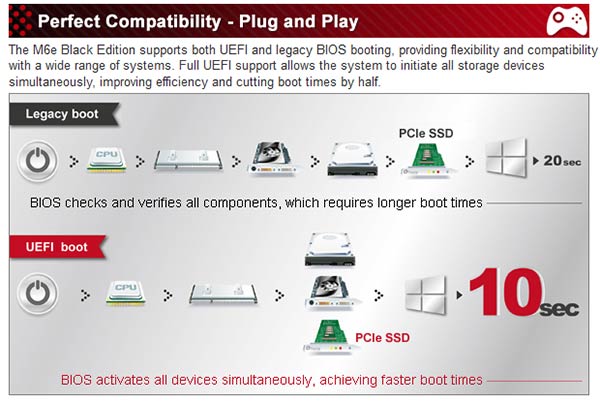 Like many competitors Plextor promises stable performance and durable operation. The firm claims a MTBF (Mean Time Between Failures) of 2.4 million hours and backs this up with a 5 year warranty.
The new range of SSDs will be made available starting next month in 128GB, 256GB and 512 GB capacities. We havn't been given any pricing intentions as yet. We saw the original Plextor M6e PCIe SSD drives become available in March last year following CeBIT 2014.