Introduction
Storage company Plextor has experimented with producing solid-state drives (SSD) using various form factors. SATA remains the overriding favourite even though it's limited in terms of interface speed, but Plextor has also released drives using the M.2 and PCIe form factors.
But rather than wait for the industry to shift to these faster standards, particularly PCIe, Plextor made the move to use both M.2 and PCIe concurrently by packaging an M.2 drive with a PCIe card that fits into the standard expansion slots on a modern motherboard.
This hybrid approach leads to the M6e drive mating a Marvell 88SS9183 controller with Toshiba NAND connecting to the system either via the bare M.2 drive or via AHCI-compliant PCIe through the use of an adapter card. The drive supports a maximum speed of PCIe 2.0 x2, or 8Gbit/s, so having a faster connection to the system, via PCIe, is of no immediate benefit, and the real-world transfer ceiling is likely to be closer to 6.4Gbit/s (800MB/s).
Getting such a drive to market with the widest possible compatibility means Plextor chooses the AHCI interface rather than the newer NVMe, which has been designed with solid-state storage in mind, and there are important ramifications for going down this route. Advantages for NVMe include lower latency, full multi-core CPU support, and deeper queue depths, and this trio of technologies plays well with how SSDs work.
Selecting the older AHCI standard enables Plextor to get the latest M6e Black Edition out to retail quickly without having to wait for the controller manufacturer - in this instance Marvell - to qualify NVMe drives, though such support is coming soon.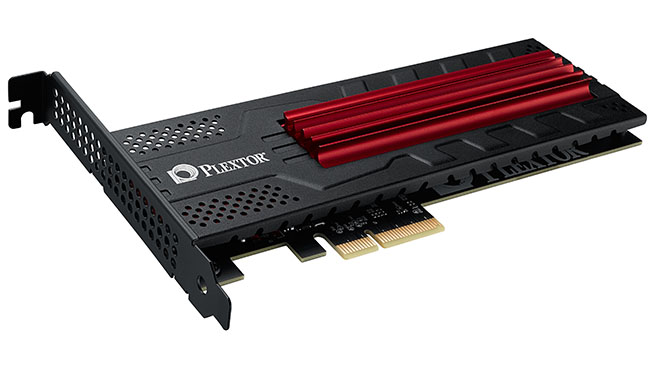 That heatsink is more than just decorative
The look is new but the technology, as you might infer from the opening paragraphs, has been seen before on the regular M6e drive that's available in either standalone M.2 form or, like the Black Edition, pre-attached to a PCIe card for motherboards that do not have M.2 support. For the vast majority of motherboards the PCIe x4 card fits into a graphics-orientated x16 slot, so do be wary of this if your system has multiple GPUs hogging the available slots.
It's a case of Plextor using that older technology in a newer, more attractive package. The underlying technology, the M.2 drive, is identical in terms of performance and is available in the same 128GB, 256GB and 512GB capacities. Both drives have support for the PlexTurbo 2.0 software (PlexTools v1.1.6) which uses system RAM for caching frequently-accessed data.
So what's the difference between the two, you might ask? The answer is cosmetic rather than technical, as Plextor envelops the newer version in a perforated aluminum shroud and central heatsink. The underlying M.2 drive doesn't consume much power but, as measured by an infrared sensor gun on the equivalent M6e M.2-based drive, the controller chip peaked at 88°C during heavy writes. Meanwhile, the heatsink of the M6e Black Edition peaked at 49°C. Of course, heatsink and controller temperatures are likely to be different, but we can make a case for extra cooling on these first-generation M.2 drives.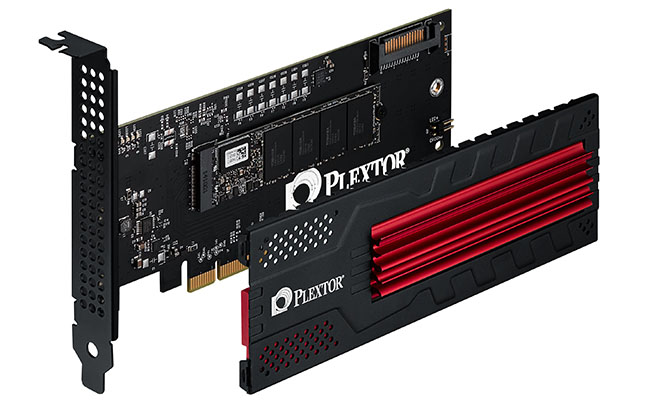 Any disassembly voids the warranty
An exploded view shows the Marvell 88SS9183-BNP2 M.2 drive resident inside the PCIe card. It's backed by 512MB of buffering memory from Nanya and, in the case of the reviewed 256GB drive, houses eight 256Gbit chips from Toshiba's 19nm range. The PCIe card includes a SATA adapter for auxillary power, too, and for those of you who like to peer through windowed chassis, the M6e has five activity lights next to the backplane section.
Plextor M6e Black Edition

Nominal Capacity

128GB

256GB

512GB

Controller

Marvell 88SS9183-BNP2

NAND

19nm Toshiba MLC

Total NAND Capacity

128GB

256GB

512GB

Interface

PCIe Gen 2.0 x2

Sequential Read Speed

up to 770MB/s

up to 770MB/s

up to 770MB/s

Sequential Write Speed

up to 335MB/s

up to 580MB/s

up to 625MB/s

Random IOPs (4KB Reads)

up to 96K IOPs

up to 105K IOPs

up to 105K IOPs

Random IOPs (4KB Writes)

up to 83K IOPs

up to 100K IOPs

up to 100K IOPs

Available Form Factors

PCIe

Dimensions

180.98mm x 121.04mm x 22.39mm (LxWxD)

Active Power Consumption

NA

Idle Power Consumption

NA

Life Expectancy

2.4m hours

Endurance

TBC

Warranty

5 Years

Current Retail Price

£110

£170

£330
The maximum throughput speed of 770MB/s gets close to saturating a PCIe 2.0 x2 connection but there are faster M.2 drives available. For example, the Samsung XP941 has a PCIe x4 controller and straight-line speeds of up to 1,170MB/s.
Overall, though, for the 256GB model, the speeds and IOPS rating is reasonable. Perusal of the other specifications shows you're unlikely to notice a huge difference between the M6e Black Edition's performance and a top-tier SATA 6Gbps SSD for most consumer tasks, thus putting the pricing into question - regular SSDs are readily available for half the money.
In summary, what we have here is a visually-updated version of a PCIe 2.0 x2 M.2 drive bolted on to a PCIe x4 card, handy for users who have yet to transition to boards featuring the M.2 interface. So, with that out of the way, how fast is it?