Samsung has launched a new USB storage drive called the Portable SSD T1. It will be made available in 250GB/500GB/1TB capacities and uses the firm's own 3D Vertical NAND. The design is slim, compact and light. You might also appreciate its shock resistance and thermal guard extreme temperature protection.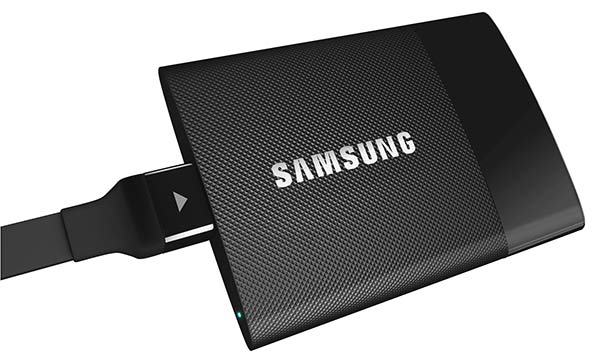 The Samsung Portable SSD T1 is designed "for today's digital life," and thus offers an appealing combination of pocketability, speed and style. The dimensions of 71.0 x 9.2 x 53.2mm (a standard business card is 85 x 55mm) and weight of just 30g (maximum) make it easy to conveniently carry. The drive offers fast read/writes up to 450 MB/s sequentially and via its USB 3.0 interface (USB 2.0 backwards compatible) it can achieve random read/write speeds of up to 8,000 IOPS and 21,000 IOPS respectively. Samsung claims a data transfer speed of "four times faster than an external HDD". As an example it says a 3GB movie file can be transferred in just 27 seconds.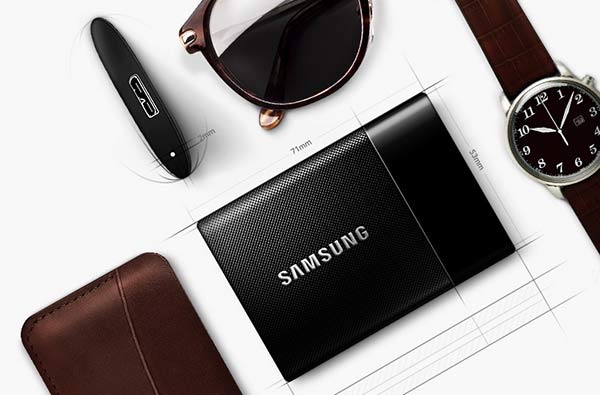 Unsoo Kim, Senior Vice President of Branded Product Marketing, Memory Business at Samsung Electronics said "Our digital lives demand storage that surpasses the limits of existing options, which requires consumers to compromise, when it comes to mobility, capacity, security and performance. The Portable SSD T1 overcomes the drawbacks of alternative options on every major pain point, making it the next external storage device of choice." Kim added that the SSD T1 enables a user to carry around their entire digital portfolio and get blazing fast access, while enjoying reliability and data security.
Reliability comes from a lack of moving parts, Samsung's 3D VNAND technology and the drive's construction. Samsung says the black chrome metal coated and laser patterned drive can withstand shocks up to 1500G/0.5ms. It's built-in thermal protection activates at extreme temperatures to protect the drive and stored data. For security Samsung offers AES 256-bit hardware encryption.
Samsung's Portable SSD T1 drives will become available globally, including the US, Europe (inc UK), and Asia later this month. The pricing for the 250GB/500GB/1TB capacities will start at £154.79, Samsung UK told us in an email. Buyers receive a 3 year warranty.