Samsung has launched its first consumer-targeted SSDs equipped with 3D V-NAND flash memory chips. The Samsung SSD 850 Evo family promises speedy data access and transfer rates, higher endurance and lower production costs. Backing-up its confident claims of these memory chips' improved durability and reliability Samsung provides a standard five year warranty.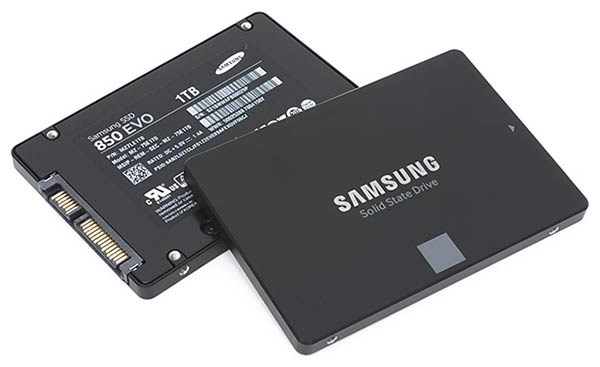 The Samsung SSD 850 Evo range is the consumer version of the high end SSD 850 Pro. It replaces last year's 840 EVO range but Samsung has ceased production of the drive offering 750GB of capacity. So the new 850 EVO range is just available in 120GB, 250GB, 500GB and 1TB capacities.
Looking first at its durability, Samsung rates these drives for 41GB/day (120GB and 250GB drives) and 82GB/day (500GB and 1TB drives). Anandtech reviewed the new range and said "it's clear that 3D NAND technology is taking TLC NAND to a whole new level in terms of endurance". This is backed up by Samsung's warranty term increase from 3 years for the previous range, extended to 5 years for the 850 EVO range.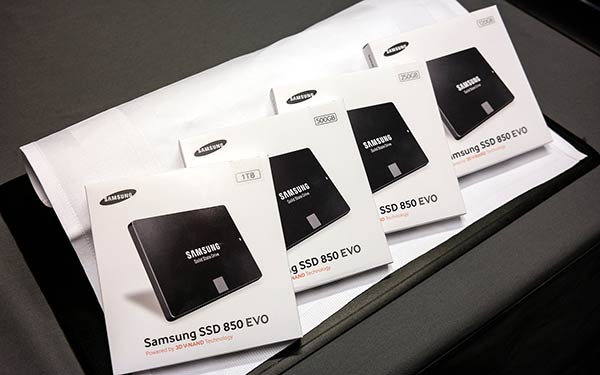 Looking at the performance of the new range the 1TB drive is the leader of the pack and offers quite a step up compared to the 1TB 840 EVO. Other drives offer middling performance, according to Anandtech. It's worth noting that the 1TB drive has a Samsung MEX controller with 3 ARM cores whereas the smaller capacity drives use a newer generation MGX controller has two cores. "Supposedly the third core isn't needed with the smaller capacities as there are less pages/blocks to track and thus NAND management requires less processing power," wrote the Anandtech reviewer.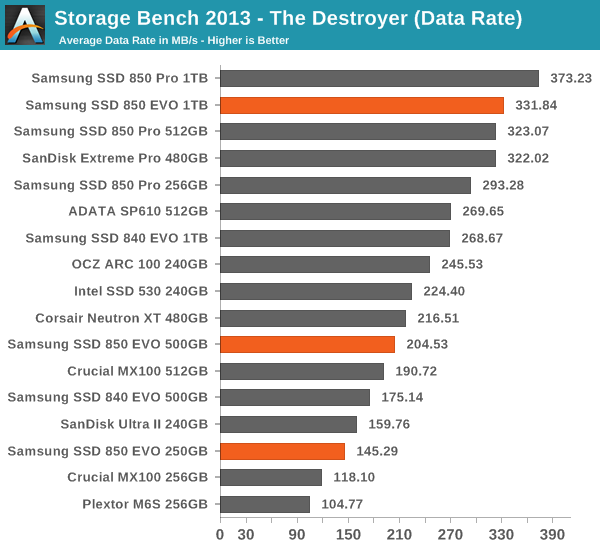 Benchmark table from Anandtech
The Samsung 850 EVO drives are expected to arrive in retail later this month, reports ZDNet. Samsung will also move its ranges of mSATA and M.2 drives over to 3D V-NAND next year, we hear. As for pricing, the US Dollar MSRPs are: $100 for 120GB, $150 for 250GB, $270 for 500GB, and $500 for 1TB. While these suggested prices aren't that competitive, the actual street or online prices may be keener. Also, as Samsung claims 3D V-Nand is cheaper to produce, it will have room for competitive price cutting though it will initially, of course, try and charge more for the benefits it brings.