High performance memory specialist G.SKILL has announced the 480GB Phoenix Blade Series PCIe SSD. The Taiwanese firm says that this next gen memory product is "the perfect storage solution for extreme gaming, professional graphic design, industrial design, and HD video & audio content creation". The "extreme read and write performance" on offer allows it to make the most of the speed on offer from today's multi-core processor based systems, asserts G.SKILL.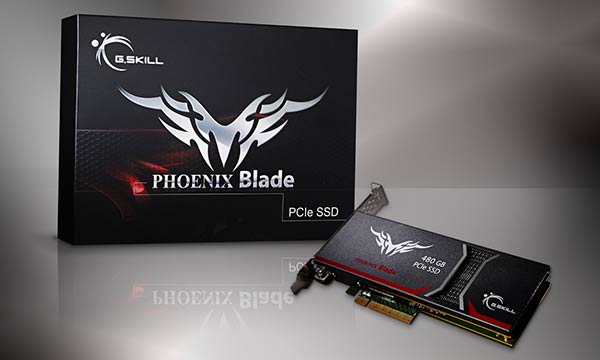 The G.SKILL Phoenix Blade PCIe SSD is built with four LSI SF-2281 SSD controllers in a RAID0 setup, integrated with 480GB array of MLC flash. That should provide 4X the bandwidth of a typical SATA3 SSD says G.SKILL. As you will have guessed from the name the drive connects via a computer PCIe slot. It is designed to be utilised in a PCIe Gen 2.0 x8 high-speed slot.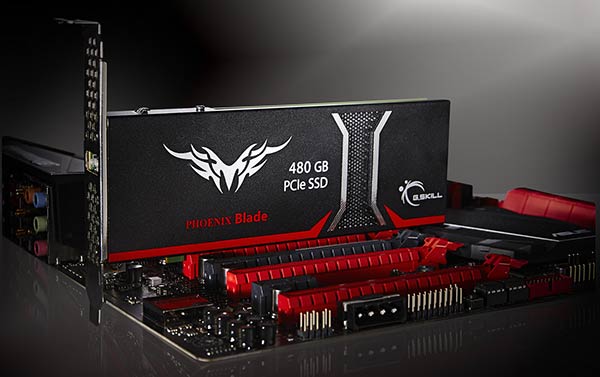 Thanks to the above hardware configuration the performance on offer is quoted by the manufacturer to be as follows:
Up to 2,000MB/s Extreme Read and Write Performance
Up to 245K IOPS 4KB Random Write
In other features the G.SKILL Phoenix Blade PCIe SSD supports TRIM with newer versions of Windows and S.M.A.R.T. attributes for drive health status monitoring. G.SKILL has implemented enhanced data protection; "By implementing BCH ECC of up to 55 bits per sector and RAID-5-like data protection, flash cell errors and page/block failures are yesterday's news," claims the firm.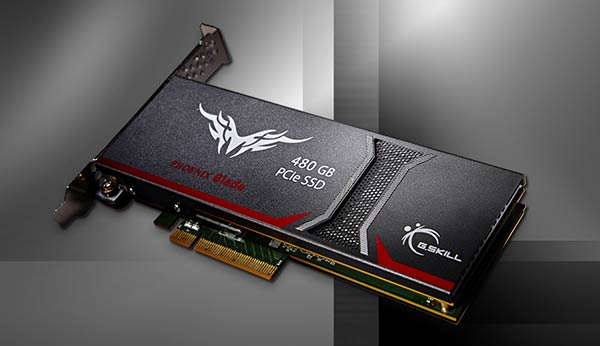 Buyers of G.SKILL Phoenix Blade PCIe SSDs will receive a 3 year warranty. In the press release sent to HEXUS the firm didn't disclose pricing or availability.