Samsung has announced that it has begun mass production of the first three-dimensional Vertical NAND (V-NAND) flash memory. This advanced memory technology "breaks through the current scaling limit for existing NAND flash technology" and should achieve gains in performance, reliability and area ratio.
The 3D cell array, which utilises Samsung's 3D Charge Trap Flash (CTF) technology and vertical interconnect process technology will offer a 128 gigabit density on a single chip. The South Korean tech giant says this provides more than twice the scaling possibilities of 20nm-class planar NAND flash.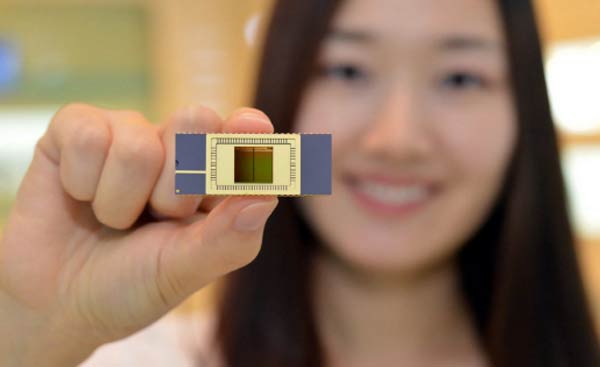 "The new 3D V-NAND flash technology is the result of our employees' years of efforts to push beyond conventional ways of thinking and pursue much more innovative approaches in overcoming limitations in the design of memory semiconductor technology," said Jeong-Hyuk Choi, senior vice president, flash product & technology, Samsung Electronics. "Following the world's first mass production of 3D Vertical NAND, we will continue to introduce 3D V-NAND products with improved performance and higher density, which will contribute to further growth of the global memory industry."
Samsung first developed its CTF architecture in 2006 and this has been revamped to provide the basis of this new V-NAND announced today. In the CTF memory architecture "an electric charge is temporarily placed in a holding chamber of the non-conductive layer of flash that is composed of silicon nitride (SiN), instead of using a floating gate to prevent interference between neighbouring cells". This architecture has now been stacked in three dimensions. Up to 24 cell layers can be stacked vertically and these will employ special etching technology that connects the layers electronically by punching holes from the highest layer to the bottom.
The new 3D V-NAND boasts "twice the write performance over conventional 10nm-class floating gate NAND flash memory" and is also said to be more reliable, exhibiting "an increase of a minimum of 2X to a maximum 10X higher reliability." Samsung has put in nearly 10 years of research developing this 3D V-NAND and now owns more than 300 patent-pending 3D memory technologies worldwide.