Samsung has announced a new line of SSD drives at the 2013 Samsung SSD Global Summit in Korea. These drives are the successors to the popular SSD 840 series which were brought to market in November 2012. Headlining facts about the new Samsung SSD 840 EVO range include; storage capacities of up to 1TB, the use of 10nm-class 128GB NAND flash memory and an increased write speed for the lower capacity members of the range using "TurboWrite".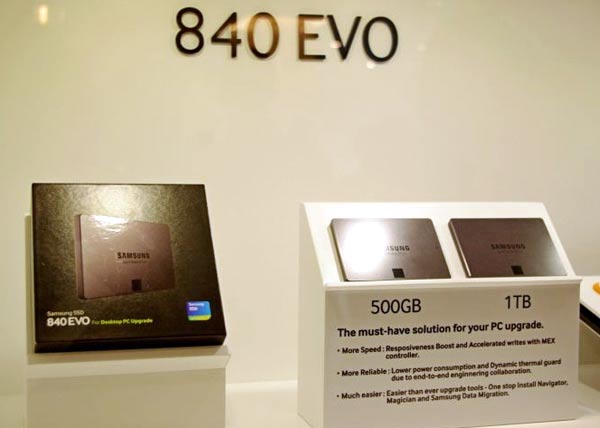 The Samsung SSD 840 EVO range offers drives with capacities of 120GB, 250GB, 500GB, 750GB and 1TB. (The previous SSD 840 range topped out at 500GB.) Like the previous range, the new EVO range comes in the 2.5-inch form factor, they are all 7mm thick and support the SATA 3 interface.
These new drives will be the first to use all-Samsung components; the 10-nanometer class 128GB NAND flash memory, Samsung custom firmware and proprietary multi-core MEX controller.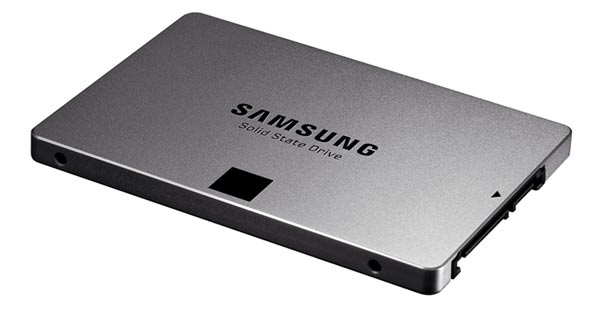 The EVO range brings a shot of speed to Samsung's consumer SSDs according to information presented by the Korean tech giant. The speed gains can be between two and three times the speed of last year's SSD 840 series. For example the SSD 840 120GB drive "was rated at 130 MB/s and 86K/32K 4K random IOPS" but the new SSD 840 EVO can achieve "410 MB/s write speeds" reports Anandtech. The highest capacity EVO drive, with 1TB of storage, offers 540/520 MB/s sequential read and write, with 98K/90K IOPS respectively, it also features a 1GB DRAM cache.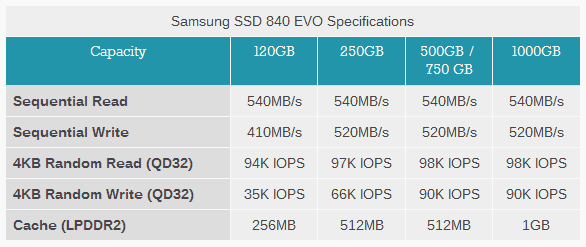 Spec chart from Anandtech
CNet says that the Samsung SSD 840 EVO drives will become available during the first week of August.