What's next for flash-based media? Capacities keep rising at incredible rates, with 4GB cards, of varying flavours, available for less than the cost of a Big Mac meal.

SanDisk, one of the companies at the forefront of flash storage, has unveiled a new microSD memory card with a difference.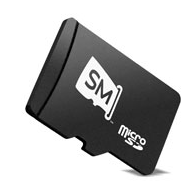 The slotMusic card will arrive pre-loaded with 320kbps DRM-free albums from four leading players - Universal, Sony BMG, EMI, and Warner - and SanDisk hopes that it will be provide the necessary 'gimmick' to increase flagging sales.

Available in capacities starting at 1GB, there will be enough room to add cover-art, videos, and associated content. SanDisk will also package a USB sleeve to facilitate connection to the ubiquitous slot.

SanDisk will retail the slotMusic sticks at brick-and-mortar stores in the US, including Best Buy and Wal Mart.

Will it work? That depends upon pricing, we suppose. Consumers have become used to buying individual songs from, say, of the iTunes store, so convincing them to part with extra cash for a small-capacity card may prove difficult.

More info here.