There's nothing quite like a firmware upgrade boasting plenty of new features, and that's exactly what users of QNAP's Turbo NAS series now have available.
The new firmware release, version 2.1.0, is available for QNAP's TS-109, TS-209 and TS 409 NAS devices. It'll add support for two new applications; Surveillance Station and QPKG software package platform.
Surveillance System does exactly what it says on the tin - it'll bring IP-based surveillance functionality and allow users to record footage from two IP cameras to the NAS without the need for a PC. If you need to keep an eye on things whilst you're away, it can be remotely configured and monitored via an IE browser, says QNAP, though, we'd imagine any browser would do.
The second and more interesting application is QNAP's own QPKG platform, which will allow users to install various software applications onto their QNAP NAS device. At present, Joomla!, phpMyAdmin, MLDonkey, SlimServer (with Squeeze Center 7), and optware IPKG are available for installation with more in the pipeline.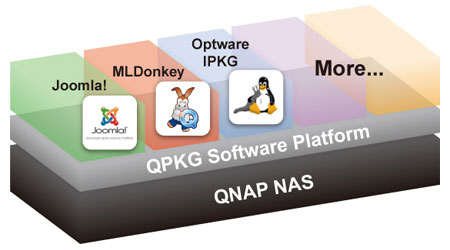 Mr. Laurent Cheng, Product Manager from QNAP, said:
With the introduction of the Surveillance Station, we hope to bring our NAS users professional-grade yet easy-to-use network surveillance. The Surveillance Station offers versatile recording modes, including continuous recording, motion-detection recording, and schedule recording. A wide variety of camera brands are supported. By using particular models, users can use two-way video and audio monitoring and recording, wireless monitoring, and smart PTZ control to control the monitoring direction via the web interface.
QNAP lists the complete new features of Turbo NAS firmware version 2.1.0 as follows:
Surveillance Station
The Surveillance Station is a new application of the Turbo NAS series. It enables the users to monitor up to two IP cameras and record and play the video. All the functions and configurations can be carried out by the IE browser over the Internet regardless the location of the cameras. Users can flexibly define the recording settings: continuous recording, motion-detection recording, and schedule recording according to their security plan.
SMTP with SSL/TLS supported
DDNS support "no-ip"
TwonkyMedia v 4.4.5
Rsync supported
QPKG support
The QPKG platform is introduced to enable users to install open source software applications by simple uploading the package file to the NAS. The following applications developed by QNAP users and community worldwide are now available:

Joomla! v1.5.1
phpMyAdmin v2.11.4
SSOTS 3.0 beta 13 (Now with Squeeze Center 7, courtesy of flipflip)
MLDonkey v2.9.5
Optware/ Ipkg v0.99.163
Sound interesting? Head on over to the QNAP website where the free firmware upgrade is now available.