Gigabyte teased its Aorus Gen4 AIC SSD 8TB "world's fastest" SSD storage solution back at Computex this summer, alongside its NVMe Gen4 SSD 2TBs. Now the firm has launched this storage device which runs on the new PCIe 4.0 standard. Currently it is only supported in the consumer space by systems based upon AMD Ryzen 3000 CPUs installed on AMD X570 motherboards.
The headline qualities of the Aorus Gen4 AIC SSD 8TB are the read/write and IOPs performance that it delivers. Thanks to the design of this quad-2TB SSD adapter on a PCIe 4.0 bus card with access to 16 lanes enables a storage and bandwidth bonanza. Gigabyte says that the card can deliver 8TB capacity with sequential read and write speeds of 15GB/s. The IOPS figures are less impressive at 430k random read IOPS and 440k random write IOPS - pretty much on a par with the recently reviewed Team Group Cardea Liquid M.2 PCIe Gen 3 x4 SSD (in its 1TB incarnation).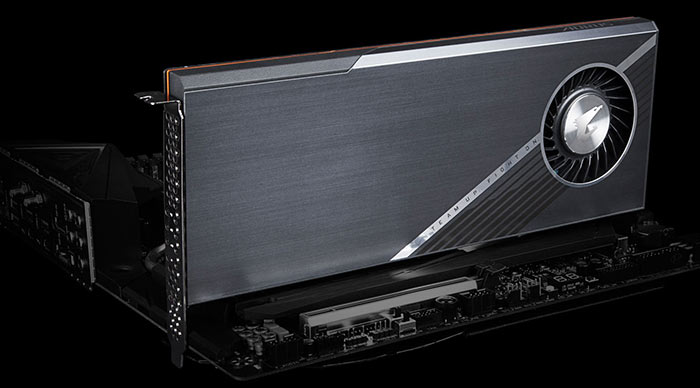 Briefly comparing the Aorus Gen4 AIC SSD 8TB with a typical 2.5-inch SATA SSD with 0.5GB/s transfers - highlights a storage product which is roughly 30x faster. Modern PCIe 3.0 x4 NVMe M.2 SSDs with typical 3.5GB/s transfers are also easily overshadowed by this AIC with >4x transfer speeds performance.
Inside the Gigabyte Aorus Gen4 AIC SSD 8TB utilises the 28nm Phison PS5016-E16 controller. This PCIe 4.0x4 controller features eight NAND channels with 32 CE targets, and DDR4 DRAM caching. It supports the NVMe 1.3 protocol, LDPC error correction, Wear Levelling, and Over-Provision technologies. Gigabyte has utilised Toshiba BiCS4 96 Layers 3D TLC (800MT/s) in creating the four component storage devices.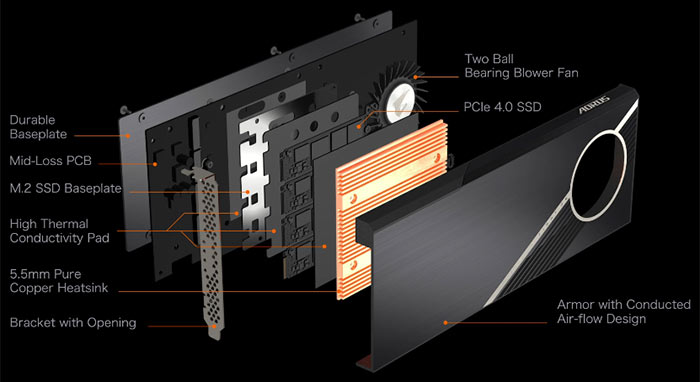 To keep performance tip-top under duress, Gigabyte has employed a custom cooling solution which features conducted airflow, an all-copper heatsink, armour, and a blower style fan (5cm twin ball-bearing fan) cooler construction - to vent any warm air out the back of your PC case. Eight temperature sensors are located on the component SSD slot areas and the Aorus Storage Manager provides three fan operating modes; Quiet, Balanced, and Performance.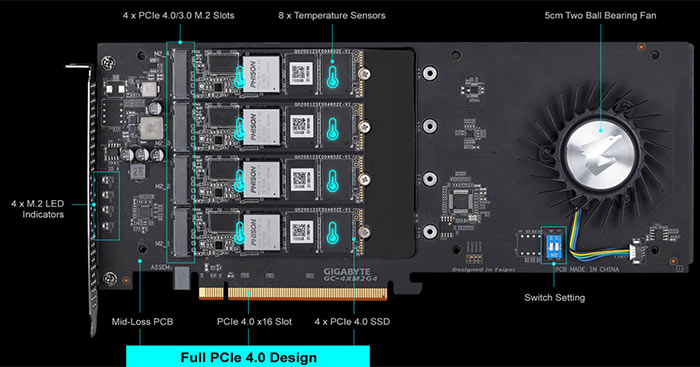 While the Aorus Gen4 AIC SSD 8TB is undoubtedly fast, installed in one of the current AMD Ryzen 3000 / X570 platforms it uses up 16 of the 24 total PCIe lanes. Four other lanes are used to connect to the chipset, leaving just four more for any other add-in-cards like a graphics card. This might be good enough for some, considering PCIe 4.0 is twice as fast as PCIe 3.0, but it remains to be seen in testing what real-world impacts we could see in demanding apps/games and multitasking scenarios on such a system.
Looking forward the TRX40 platform for AMD Ryzen 3000 Threadrippper CPUs looks set to launch this month and these could provide up to 128 PCIe 4.0 lanes.