Asus has begun shipping an updated version of its Hyper M.2 x16 V2 NVMe RAID Card. The suitably named Asus Hyper M.2 x16 Card v2 is an add-in card that allows you to fit up to four PCIe 3.0 M.2 drives to a motherboard PCIe x16 slot to facilitate transfer bandwidth up to 128Gbps.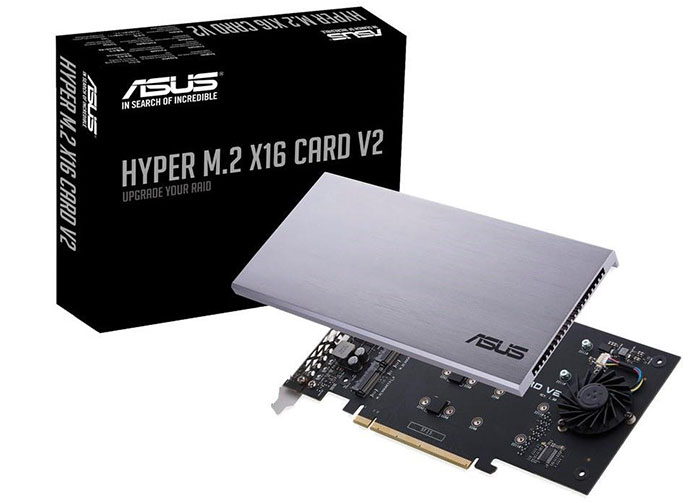 The card supports Intel VROC (Virtual RAID on CPU) technology, allowing you to use CPU PCIe lanes to create bootable RAID arrays with multiple M.2 SSDs. Asus says that unlike motherboard PCH-based RAID, VROC isn't confined by the 32Gbps DMI bottleneck, "so multiple drives can be teamed to provide incredible throughput".
A large heatsink and active blower fan feature in the design to ensure drives are kept cool, with the PCB protected by a stylish brushed aluminium heatsink cover. Cool operation should prevent or at least minimise throttling. The bracket features an M.2 fan switch plus four activity lights, one for each SSD installed.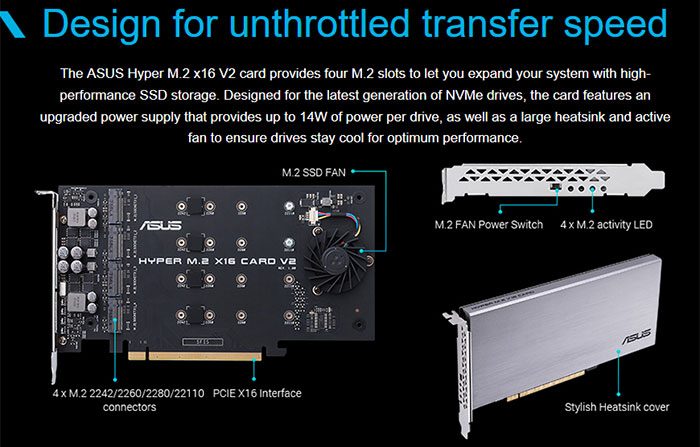 A significant difference with the Asus Hyper M.2 x16 Card v2 is in an improved power delivery circuit. Thanks to the new power design, each slot has a guaranteed 14W of power. Other than that you will see that the PCB layout has been adjusted with the blower fan pushing air up the length of the added M.2 sticks, rather than vice-versa, which probably helps cooling as the PCB M.2 connectors won't interrupt the airflow so abruptly.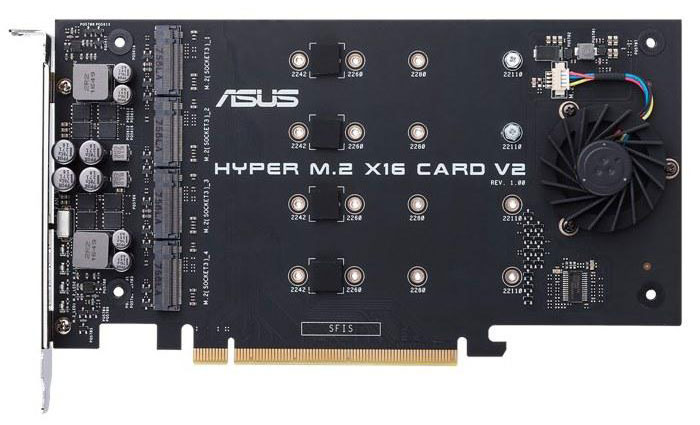 The new add-in-card measures 20.2(L) x 9.6(W) x 1.3(H)cm and works on the following platforms with RAID functionality; Intel VROC ready for X299, Z370 and Z390 Series motherboard models (It supports Intel SSDs only), AMD X399/X470/B450/X370/B350 Series motherboard models.
For reference you can find the original product and the smaller Asus Hyper M.2 x4 mini card with room for just a single SSD, via the respective links.