Qnap has launched a new NAS that targets living rooms and home theatre setups. The new Qnap HS-453DX Silent NAS is silent due to being a fanless designed, yet still has the processing power to deliver important home features such as smooth 4K real-time transcoding via its built-in HDMI 2.0 port for direct 4K 60Hz output. Jason Hsu, Product Manager of Qnap, made it clear that the sleek STB styled HS-453DX Silent NAS would easily cope with the larger file sizes and higher bitrates of 4K media files "to deliver a smooth multimedia experience". Its SSD caching and fast network connectivity will also help future-proof this silent box.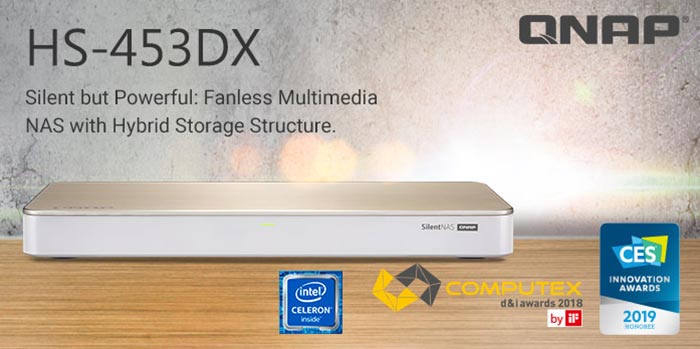 The Intel processor at the heart of this device is the Celeron J4105 processor, accompanied by 4GB/8GB DDR4 system memory. This 4C/4T processor runs at base/burst of 1.5/2.5GHz, has 4MB cache, and has a TDP of 10W. As a hybrid storage solution the HS-453DX includes two 3.5-inch SATA 6Gb/s drive bays, and two M.2 2280 SATA SSD slots. Storage devices can work together with SSD caching reinforcing traditional hard drives, helping to optimize the performance of demanding applications. Headline performance claims are of up to 677MB/s read/write speeds.
Connecting the HS-453DX Silent NAS to your network there is a built-in 10GBASE-T five-speed port (supports 10G/5G/2.5G/1G/100M), among the plethora of connectors which include; Gigabit RJ45 LAN port, 1x HDMI v2.0 and 1x HDMI v1.4b output, 1 x Type-C USB 3.0 ports, 2 x Type-A USB 3.0 ports and 2 x USB 2.0 ports, 1x 3.5mm Line-out audio jack, 2 x 3.5mm dynamic microphone jacks (and there is even a built-in speaker).

A wide range of multimedia applications play on the strengths of the HS-453DX. There is dual-channel 4K real-time transcoding ability, the Plex Media Server (for streaming to DLNA devices like Roku, Apple TV, Amazon Fire TV, and Google Chromecast), the Cinema28 to turn the HS-453DX into a centralized home multimedia hub, Roon Server music streaming, and the OceanKTV app which makes the HS-453DX a capable karaoke machine. These are in addition to the standard Qnap backup, file management, and security applications.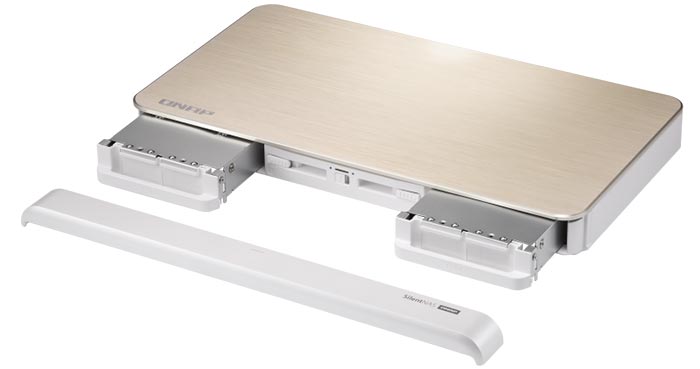 Qnap says that the HS-453DX Silent NAS is available immediately. I found an unpopulated 4GB RAM version (HS-453DX-4G) for sale in the UK at £630 inc VAT.