Samsung has announced its new NF1 NVMe SSDs. These are gumstick style form factor NAND storage devices which can be delivered in capacities up to 8TB. Samsung says that these Next-generation Small Form Factor (NGSFF) devices are "optimised for data-intensive analytics and virtualisation applications" in next-generation data centres and enterprise server systems.
"By introducing the first NF1 NVMe SSD, Samsung is taking the investment efficiency in data centres to new heights," said Sewon Chun, SVP of Memory Marketing at Samsung Electronics. "We will continue to lead the trend toward enabling ultra-high density data centres and enterprise systems by delivering storage solutions with unparalleled performance and density levels."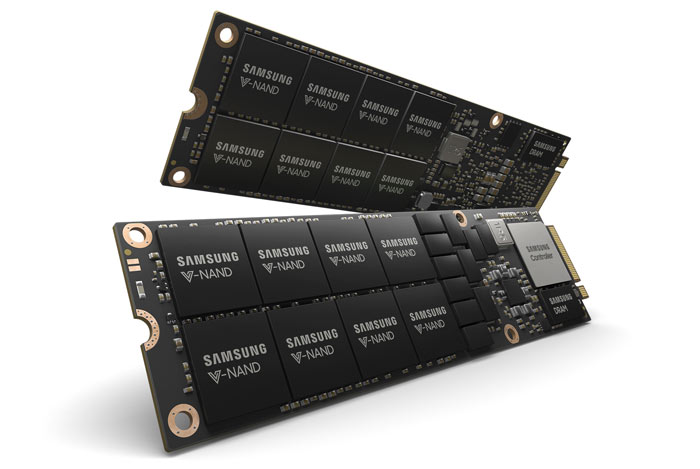 Samsung's NF1 form factor SSDs can handle double the capacity of an M.2 stick, without being much greater in size. Specifically, the footprint of an NF1 SSD is 11cm x 3.05cm, and the size of Samsung's popular M.2 SSDs common in slim laptop designs is 11cm x 2.2cm. The form factor is thus is great for increasing storage density, which is an important consideration for server makers / users. Samsung states that if you use one of the latest 2U rack server designs it is possible to include "an unprecedented 576TB of storage space" thanks to its new NF1 NVMe SSDs.
The NF1 NVMe SSDs employ 16 of Samsung's 512GB NAND packages with each package comprised of 16 layers of 256Gb 3-bit V-NAND chips. Samsung doesn't share much in the way of technical details about the "brand new, high-performance controller," other than to inform us that it supports the NVMe 1.3 protocol and PCIe 4.0 interface. Additionally, the SSD includes a 12GB LPDDR4 DRAM cache.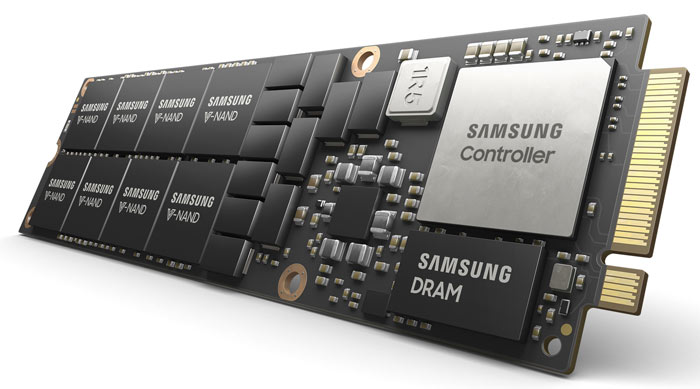 In terms of performance you should expect from this NF1 NVMe SSD, Samsung asserts that it can deliver sequential read speeds of 3,100MB/s and write speeds of 2,000MB/s. Random speeds come in at 500,000 IOPS for read operations and 50,000 IOPS for writes. Endurance is also important, especially for server customers, and Samsung has designed the NF1 NVMe SSD with an endurance level of 1.3 drive write per day (DWPD).
In H2 this year Samsung will produce NF1 NVMe SSDs with even greater capacities, based upon its 512Gb 3-bit V-NAND components.