Samsung has launched its new 970 PRO and EVO M.2 NVMe SSDs. The South Korean electronics giant claims that these new high-performance storage devices, aimed at tech enthusiasts and professionals, can deliver up to 30 per cent faster sequential write speeds compared to the previous generation.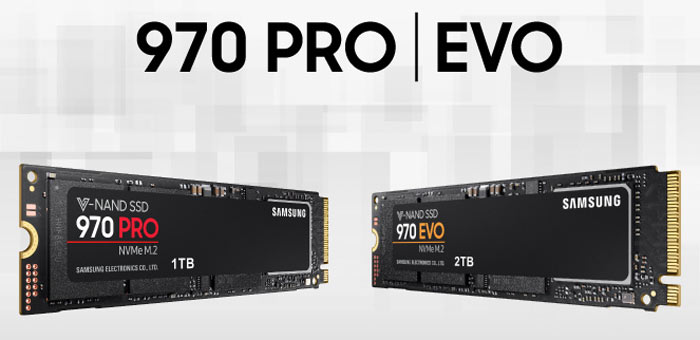 In a statement within the press release Samsung SVP of Memory Business Brand Product Marketing, Un-Soo Kim, said "Samsung has led the NVMe SSD industry since its inception, and the company continues to define the latest standards of consumer storage with unprecedented performance of the 970 PRO and EVO SSDs." Kim added that "The 970 series sets a new bar in all aspects for the NVMe SSD market with groundbreaking performance, superior reliability and best-in-class capacity."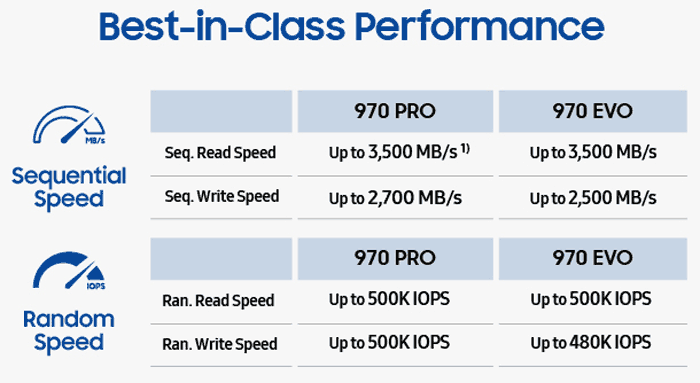 Looking at headline performance figures; the 970 PRO enables sequential read speeds of up to 3,500MB/s and sequential write speeds of up to 2,700MB/s, and the 970 EVO achieves sequential read speeds of up to 3,500MB/s and sequential write speeds of up to 2,500MB/s.
Samsung attributes the perky performance on use of its latest V-NAND MLC technology and the newly designed Phoenix controller. In further explanation of the performance uplifts from previous gen devices Samsung says that the 970 EVO utilizes Intelligent TurboWrite technology, which uses a large buffer size of up to 78GB to enable faster write speeds.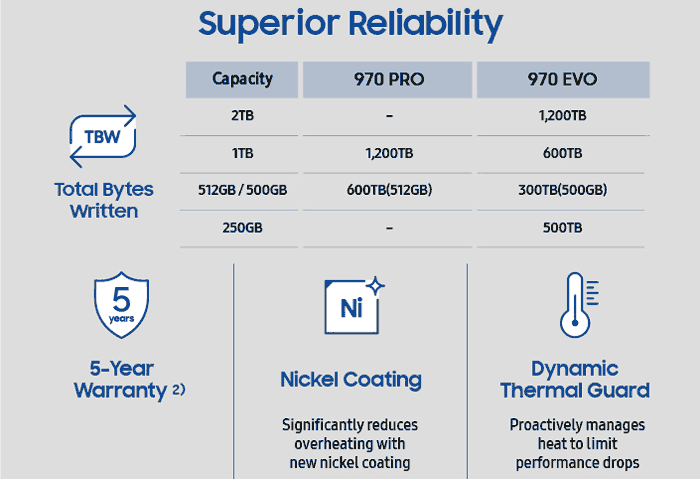 Of course other important considerations when purchasing data storage devices are reliability, endurance, and price. In answer to these considerations, Samsung says that again it has upped the ante with 50 per cent higher TBW figures than previous gen devices, five year warranties as standard, and Dynamic Thermal Guard technology to keep temperatures in check.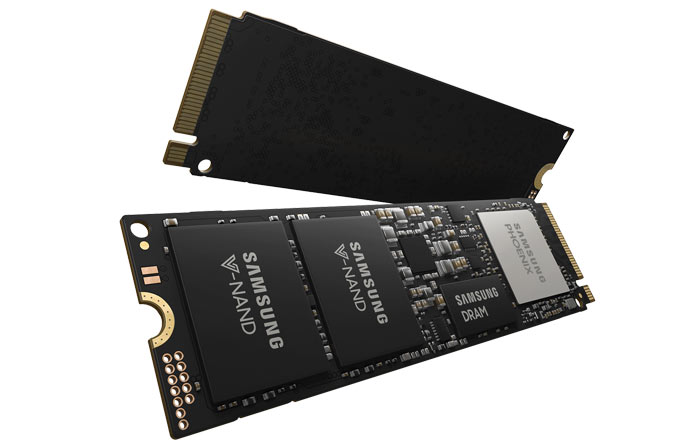 The Samsung 970 PRO will be offered in 512GB and 1TB capacities, and the 970 EVO in 250GB, 500GB, 1TB and 2TB capacities. For design flexibility these compact M.2 (2280) drives are single sided designs, even the capacious 2TB 970 EVO. In the US the Samsung 970 PRO and EVO ranges start at $119 and $329 respectively. Here in the UK the MSRPs are as below, Samsung told HEXUS in an email.
970 PRO 512GB: £275.79
970 PRO 1TB: £526.79
970 EVO 250GB: £100.79
970 EVO 500GB: £193.79
970 EVO 1TB: £375.79
970 EVO 2TB: £709.99