Samsung has announced that it has started mass production of 30.72TB SSDs. The PM1643 series are 2.5-inch SAS interface drives which utilise Samsung's newest V-NAND technology with 64-layer, 3-bit 512Gb chips. Samsung's latest and greatest next-gen top capacity enterprise targeted drive doubles the capacity offered by its predecessor from March 2016.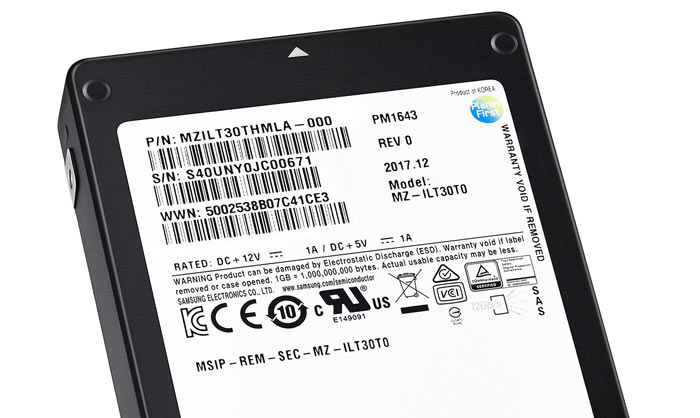 In constructing the 30.72TB capacity PM1643, Samsung used 32 of its new 1TB NAND flash packages, each comprised of 16 stacked layers of 512Gb V-NAND chips. For caching, TSV technology is used to interconnect 8Gb DDR4 chips, creating 10x 4GB TSV DRAM packages, totalling 40GB of DRAM. This is the first time TSV DRAM has been used in an SSD, boasts Samsung. To make the most of the other components Samsung introduced a new highly efficient controller architecture that integrates nine controllers from the previous high-capacity SSD lineup into a single package.
Samsung supplied some interesting preliminary performance figures for the 12Gb/s SAS interface PM1643. It features random read and write speeds of up to 400,000 IOPS and 50,000 IOPS, and sequential read and write speeds of up to 2,100MB/s and 1,700 MB/s, respectively. Compared with a 'typical 2.5-inch SATA SSD' it offers approx four times the random read performance and three times the sequential read performance, says Samsung.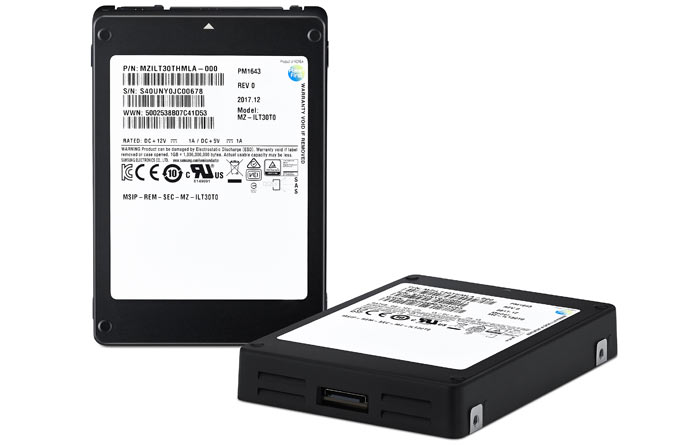 Importantly Samsung's error correction code (ECC) algorithm ensures high reliability and minimal storage maintenance. Complementing the hardware Samsung provides software for metadata protection as well as data retention and recovery from sudden power failures. Drive endurance is rated at one full drive write per day (DWPD), which translates into writing 30.72TB of data every day over the five-year warranty period without failure. The MTBF figure is quoted at two million hours.
Samsung began mass production of 30.72TB capacity PM1643 SSDs in January and plans to expand the lineup later this year – with 15.36TB, 7.68TB, 3.84TB, 1.92TB, 960GB and 800GB versions.