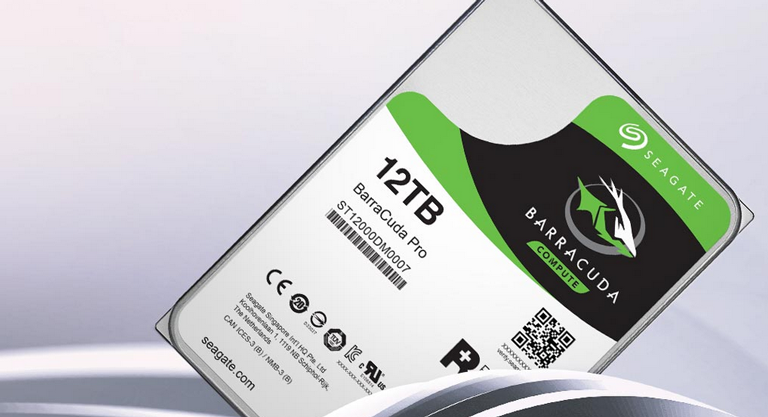 Two rivals in the mechanical hard drive market have announced new high-capacity 3.5" desktop drives almost at the same time: Western Digital, or rather its wholly-owned subsidiary HGST, will be shipping its first enterprise-class 14TB drive, while competitor Seagate has taken the wraps off of three new 12TB drive targeting the NAS and desktop markets.
Starting with Western Digital, the new model in question is the HGST Ultrastar HS14, an enterprise-class drive which has started shipping to 'select OEMs'. Sadly, no specific companies have been named, and Western Digital remains quiet on more general availability and the price consumers can expect to pay.
What we do know is that the drive exploits Western Digital's fourth-generation HelioSeal Technology, whereby helium is used in place of regular air inside the hermetically sealed drive, and second-generation host-managed SMR (shingled magnetic recording) to reach its impressive capacity while retaining the speed of its predecessors. The use of SMR means it is specifically optimised for sequential write environments like data archiving rather than being suitable as a drop-in replacement for traditional capacity enterprise drives. The Ultrastar HS14 carries a five-year warranty and a 2.5-million hour MTBF rating; more information is available on the official product page.
'Over 70 percent of the exabytes Western Digital ships into the capacity enterprise segment are on helium-based high-capacity drives and continue to support customers with outstanding reliability, performance and value Quality of Service (QoS),' said Mark Grace, senior vice president of devices at Western Digital. 'The TCO and reliability benefits of our HelioSeal platform are the foundation of our leadership in high-capacity enterprise storage.'
Moving on to Seagate, the company has announced 12TB 3.5" offerings for the first time in three product families: IronWolf, IronWolf Pro, and BarraCuda Pro. While 12TB is undeniably smaller than 14TB, the new capacity is a first in the NAS and desktop arenas – the HGST drive is classified as enterprise. The drives can also be bought now, with UK pricing coming in at £400 (IronWolf 12TB), £440 (BarraCuda Pro 12TB), and £450 (IronWolf Pro 12TB).
Both IronWolf drives support Seagate's IronWolf Health Management (IHM), which specific NAS units from Synology, QNAP, and Asustor will leverage to allow users to carefully monitor drive health and action recovery options in the event of failure. IHM is set to be available in the next quarter.
'Our storage hungry customers and partners continue to ask for our latest and greatest technology along with increased capacity and performance in our purpose built products,' said Matt Rutledge, senior vice president of Business Marketing at Seagate Technology. 'With the 12TB Pro products, Seagate buyers are overcoming capacity constraints in their systems and can access vast amounts of digital data anytime, from anywhere.'
More information on the new drives can be found on Seagate's official website.