Flash Voyager and Flash Survivor now at 32GB
Corsair has announced the expansion of its Flash Voyager and Flash Survivor USB family lines with new 32GB capacity offerings. Set to debut at CES next week, Corsair claim the drives to be the "Ultimate Solution for Storing, Transporting & Backing-up Critical Data".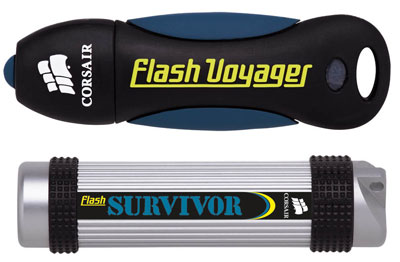 Pictured above, the new 32GB Flash Voyager and 32GB Flash Survivor are part of Corsair's ultra-rugged range and should withstand most of what you throw at them.
Available immediately, the drives are to retail at $229.99 for the Flash Voyager and $249.99 for the Flash Survivor.
"Whether with innovative designs, like the Flash Voyager and Flash Survivor, or industry leading large-density drives in convenient portable form-factors, Corsair is always pushing the limit of what USB portable storage has to offer," said Jack Peterson, VP of Marketing at Corsair. "Our newest USB additions will allow a whole new set of users – multimedia, technical and data conscious – to take advantage of rugged, high-performance solid-state storage."
Official press release: CORSAIR INTRODUCES 32GB HIGH-DENSITY USB FLASH DRIVES FOR FLASH VOYAGER™ AND FLASH SURVIVOR™ AT CES 2008