Microsoft has released PowerToys v0.12 and the software is available immediately via GitHub. The iconic utilities were originated as a concept in the Windows 95 era. They were dubbed PowerToys as they were extensions to the utility and control panel style software already built-into the OS and Microsoft thought they would be played with by Power Users. They became so popular and were so useful that many of these UI development afterthoughts became staples of Windows OS updates.
PowerToys v0.12 were introduced as part of the Windows 10 Insider Preview Build 19013 (for Windows Insiders in the Fast ring) but they warranted their own Microsoft blog post and are available separately, to non-Insiders, via this GitHub page.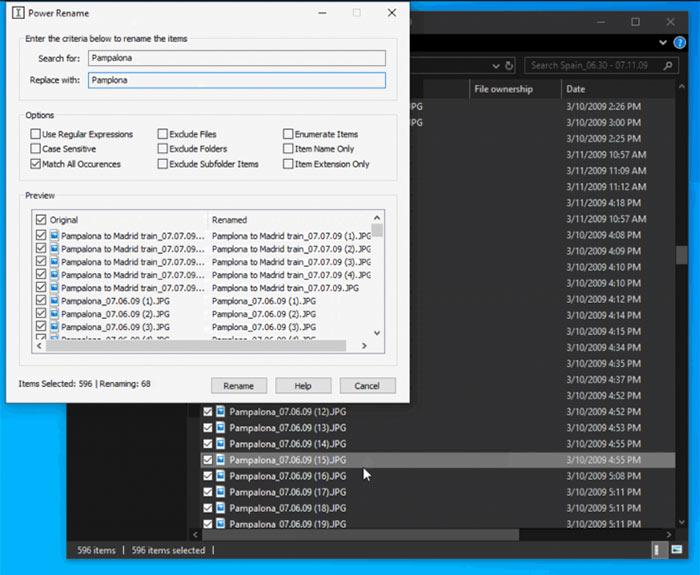 New in this release are PowerRename, FancyZones multi-monitor support, and some Dark Mode support. As its name would suggest PowerRename is a utility which allows users to batch rename groups of files. Via its UI (pictured above) it provides search and replace functions, various filtering options, and a handy preview file list window. I've used freeware and similar apps for this kind of job before but that was so long ago the apps might be incompatible / no longer available, or whatever. So it is nice to have an official app for this task, for next time I need to rename oodles of files.
Microsoft's FancyZones has been improved. This is a "window manager that's designed to make it easy to arrange and snap windows into efficient layouts for your workflow". As well as a pretty essential update making the utility configuration tool multi-monitor aware, Microsoft says that it targeted globalization bugs, and corrected other high priority issues.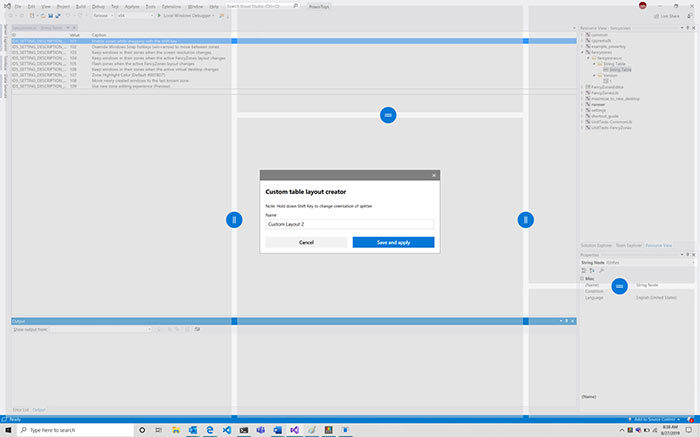 Last but not least it is good, for the eyes, to see that Microsoft's developers have started to add PowerToys support for Windows Dark Mode.
In the intro I mentioned Windows 10 Insider Preview Build 19013. This OS preview introduces a number of useful sounding features. One significant change is the removal of the Your Phone 'Phone Screen' feature's dependency on Bluetooth Low Energy connectivity. However, this is currently only supported by a handful of modern Samsung Galaxy devices. Additionally, if you read our report on new DirectX 12 features earlier this week, you might be interested to know that in the latest Windows 20H1 builds you will be able to preview DirectX Raytracing tier 1.1, Mesh Shader, and Sampler Feedback.