Microsoft's graphics team project manager Jianye Lu has penned a blog post about what to expect next in DirectX 12. In the post Lu previews a range of new DirectX 12 features that are currently available in Windows 10 Insider Preview Builds (20H1) through the Windows Insider Program, and are expected to go prime time in the next Windows feature update during the first half of 2020.

Probably the biggest addition to DX12 will be DirectX Raytracing Tier 1.1. If you remember back to last year, Microsoft introduced DXR tier 1.0 upon which this builds to help advance "cinematic levels of photorealism in real time to a long list of games".
Specific additions with DXR tier 1.1 include; support for extra shaders for existing raytracing pipeline state objects (said to increase efficiency), support for ExecuteIndirect for raytracing which leverages adaptive algorithms, and the introduction of Inline raytracing for "when the full shader-based raytracing system is overkill". Microsoft advises developers to build their apps and solutions using DXR tier 1.0 then add in tier 1.1 features which they identify as beneficial. The firm continues to work closely with GPU vendors and games developers to make raytracing quality better and more efficient.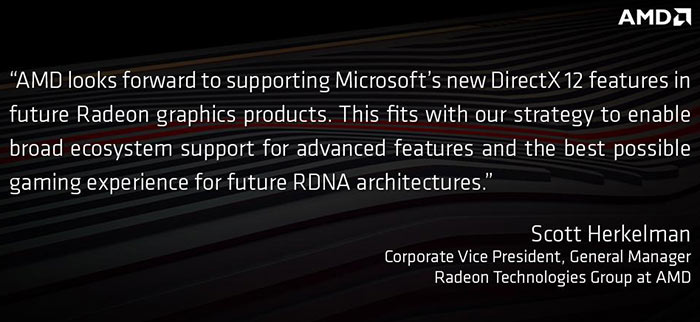 Another change coming to DX12 is the DirectX Mesh Shader which it is hoped will increase the flexibility and performance of the geometry pipeline (see below). We are told that the use of mesh shaders can enhance performance by allowing geometry to be pre-culled without having to output new index buffers to memory, whereas triangles are currently only culled by fixed function hardware after the vertex shader has completed execution. Additionally, a new amplification shader stage "enables tessellation, instancing, and additional culling scenarios," says Microsoft's Lu.

Microsoft has added DirectX Sampler Feedback to its gaming API. This feature is said to greatly improve texture streaming - loading the right data at the right times for greatest efficiency, and Texture-Space Shading which reduces spatial and temporal rendering redundancy.
If you are interested in the above, and wish to learn more about these changes, Microsoft's Lu says that the DevBlogs pages will be updated in the next few weeks with each of the new features mentioned above expanded upon with more technical details.